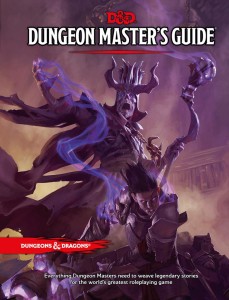 The D&D Dungeon Masters Guide is out now, and it's a very cool resource filled with lots of new rules for treasure, magic items, world building, new downtime activities, and optional rules! Also, my name is in the play-tester credits, so that's pretty fun :).
Anyway, instead of doing something ridiculous, like review an entire book, I'd like to focus on one specific element I found interesting, the rules for running a business during your downtime!
The idea of running a business and making extra money during downtime is pretty appealing. It's a great way to engage with the campaign world, a fun "simulationist" way to make money, and it opens up some cool adventure hooks for the DM. For example, maybe some mysterious cloaked figures show up at your Inn, clearly wounded and seeking shelter for the night, OR maybe a group of bumbling first level adventures meet up for the first time, planning a raid on a dragon lair that will surely result in their deaths!
However, running a business is a tricky mechanic to get right. You probably don't want it to be TOO profitable, or else your PCs will be scratching their heads, wondering why they ever go on adventures. Conversely, if it doesn't really make you any money, why even bother? Sure, running an Inn sounds cool, but if it's not profitable, maybe you're better off spending your character's time elsewhere.
The folks at Wizards of the Coast gave running a business a decent shot that may work for casual play, but unfortunately it suffers from a few serious flaws when you dig into it:
Running a big business is less profitable than running a small business: If you look at the table for running a business, you'll see that lower results penalize you by forcing you to pay some percentage of your upkeep every day you spent running a business. Your upkeep can range from 5SP a day for a farm to 10GP a day for a trading post. That makes sense. If your business does poorly, you still have to pay your workers and keep your property in shape. What is pretty counter-intuitive, however, is that if you roll higher on the table, you roll a set amount of dice to determine your profit. This profit is in the same range no matter the size of your business. So a small farm makes the same profit as a large inn, but since the large inn has an upkeep that is 20 times larger, you'll end up making a lot less money overall since it will hurt a lot more when you roll poorly and need to pay that upkeep. (more…)