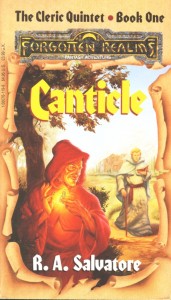 Knowing that Barjin was in catacombs no doubt laced with burial vaults, the wizard did not have to ask where he intended to find his army. Suddenly Barjin's choice to assault the library did not seem so foolhardy.
–R. A. Salvatore, Cleric Quintet 1: Canticle
I'm not above reading an R. A. Salvatore novel on occasion. What better source for D&D inspiration than a novel that was inspired by D&D? It's like opening a jpeg in Photoshop and saving it again. Some loss of quality may occur.
A necromancer is unique among leaders in that he doesn't need to bring his army with him. He can create one anywhere he can find a graveyard. This can be useful for DMs, allowing a lot of mobility for their evil villains.
It could also add some fun twists for a high-level political campaign. If your PC rules a country, loyal necromancers might join spies and assassins as agents they can send into enemy kingdoms.
Tags: everybook