Having just purchased and never played Conquest of Nerath, I would say I am in a good position to review it. Because, you know, I'll be objective or something: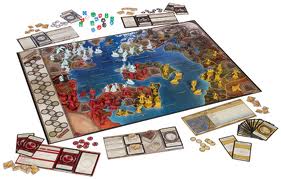 Basic Impression: Conquest of Nerath is your classic light to medium complexity war-game with a number of notable D&D themed twists! In terms of complexity, I would say it is notably more complex than Risk and a little less complex than Axis and Allies.
Cool Features: There are some notable features that distinguish Conquest of Nerath from other war games of it's type.
Treasure Cards: These add an interesting element to the game. Heroes (a type of unit) can explore dungeon spaces, where they battle powerful monsters. If they defeat them, they gain a treasure card, which generally gives a cool benefit that applies for the rest of the game (often specific to a particular unit) and one or more victory points towards winning the game. They also sometimes have a cool one off power. A number of classic D&D magic items are featured, such as the deck of many things, holy avenger, eye of vecna, and vorpal sword, all with appropriately cool effects. Treasure cards add an interesting dynamic to game: you want to capture your enemies territories while diverting some resources to explore dungeons and acquire treasure cards that give additional victory points and cool abilities.
Event Cards: Each of the four sides has its own unique event deck. Each player draws from the deck at the beginning of their turn and either has to play the card immediately or can save it to aid them later, often in battle. This is a fun mechanic that distinguishes the different sides from each other, adds variety to game-play, and introduces another resource to manage.
Thematic Units: While footsoldiers, siege engines, castles, and warships are pretty standard medieval fare, some of the other units have a fun D&D/fantasy feel to them. Only heroes (wizards and fighters) can enter dungeons, monsters have a fun "Run Amok" power where they terrorize and conquer an adjacent enemy territory after a successful battle, storm elementals are twice as good at attacking when on sea, and the dragon takes more than one hit to kill and has a super high attack die.
Further Thoughts:
Shared Victory: There is a team mode that doesn't exactly blow me away, since it seems pretty similar to just playing a two player game (though I suppose the cards are hidden information, so that could make for some fun moments as your partner steps in to help you during battles).
Rewards Aggression: The game has 3 modes (short, medium, and long), and the first two involve acquiring a number of victory points. Interestingly, you get these for conquering territories, but you don't lose points for losing territories or gain points for recapturing your own territories! So it seems like a good strategy is to aggressively take other player's territories, while caring less about protecting or retaking your own territories (though you never want to lose your capital, since that has pretty serious repercussions).
In short, Conquest of Nerath looks like it will be pretty fun to play. It has relatively simple rules, so I imagine it won't be too difficult to find an opportunity to get a game together.