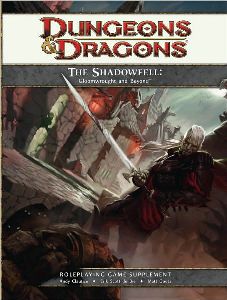 I ran a session using D&D 4e's The Shadowfell: Gloomwrought supplement yesterday. It was pretty fun! I introduced the players to the creepy crucified corpse at the intersection of five roads that points in the direction the PCs want to go and to the House of Black Lanterns, an inn for travelers that always seems to appear suddenly out of the mist.
In addition to the NPCs in the book, I also threw in some of my own inventions for inhabitants of the inn like an old city guard braving the shadowfell to help her granddaughter find her lost husband (who had been taken by banderhobbs) and a down on his luck hill giant who has grown weary of life in the Shadowfell.
In order to reinforce the mood of the gloomy Shadowfell, I used a single candle as a light source during the game (along with some last shreds of daylight).
Here are my reactions from using a candle while roleplaying:
Everything is gloomy: The relative darkness and flickering candlelight combined to make a pretty somber atmosphere. This was good and bad in that it reinforced the creepiness of the Shadowfell, but it also sucked some of the energy out of the session. I think I might have been able to maintain the energy more if the party was in a haunted or particularly dangerous location where something could attack them at any moment or if they were engaged in a fight with ghosts and horrible undead, but since they were traveling on a road and then later spent the night at an inn it was hard to really maintain a creepy tension so instead everything just seemed a little sadder and more subdued. I suppose I could have tried to hype up what was essentially a non threatening situation and I did a little bit, but ultimately it didn't feel super appropriate to do so, especially at the inn, which is supposed to be a haven for travelers in the Shadowfell.
It is hard to see: Yep. No surprise here. For a game that requires looking at your stats or a die roll every ten seconds, it is definitely a detriment not to be able to see well.
I don't want to hit the candle over: I was a little worried about hitting the candle over during the session and spilling wax on someone's character sheet or something. I could see this being an even bigger concern during combat, when everyone is moving miniatures around and rolling a lot of dice. I am running a combat next week, so I will let you know how it goes!