One of the obstacles to pick-up D&D is that you probably don't have your character sheet with you. Wouldn't it be nice if you could fit it in your wallet, along with your Monster Manual?
Business card front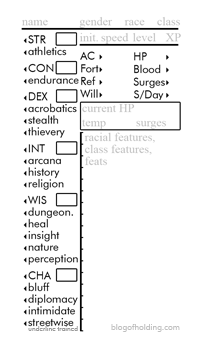 (high-quality printable version)
Business card back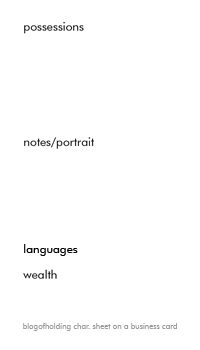 (high-quality printable version)
Character sheet sizes have varied greatly, from the austerity of the one-page Basic character (with lots of whitespace) to the excesses of the four-page 3rd edition sheets. In fourth edition, the character sheet has shrunk from the original front-and-back version to the delightful one-page Essentials sheet, which now has 12 lines for "Powers and Feats", enough for any character as long as they're level 1.
Character Sheet on a Business Card: My 2 x 3.5-inch character sheet has pretty much everything the official D&D one has, but it's dollhouse-sized. In order to use it, you might have to write in a fine, spidery script, and possibly change your character name from "Robert the Warhorn, Eater of Worlds" to "Bob W. Eater", but that's a small price to pay for the ability to accidentally hand your 12th-level warlock to visiting businessmen.
Skills and Attributes: I laid out the business card so that you write your skill bonuses in the margins. Also, you'll underline your trained skills, which saves a couple dozen checkboxes.
Powers and Feats: You don't have room to write your powers, but that's not really unusual for a 4e character sheet. You should be using power cards: they also fit in your wallet. Also notice that this character sheet has room for 15 feats – three more than the Essentials sheet!
Notes and Character Portrait: It's not a character sheet if there's nowhere to draw a portrait. In the combined Notes/Portrait section, you won't have much room for both, but the player who is doodling elaborate blood spatters on her orc barbarian is not the party note-taker anyway.
The business card format: The nice thing about business cards is that they're super cheap. You can print up, like, 500 business cards for like $10!