With Google ads paying out $20 for the year, Rory and I had some decisions to make. Should we Grow Our Business? (i.e. use the money to pay for two months of web hosting?) or should we spend it all in one glorious splurge, the likes of which the world has seldom seen?
We chose the latter! At Gen Con this month, we each took $10 to spend on the Exhibition Hall floor.
How I spent my $10:
One lead miniature: $7
The booth next to the Gygax Memorial Fund hosted Badger Games. I admired their beautifully painted line of horror-themed Gone With the Wind minis, and I finally decided to get the Vampire Scarlett O'Hara holding a severed head. Unfortunately, they didn't have any in stock, so hopefully it's on its way to my house right now. Since Badger Games doesn't seem to have a website or an email address, I can't contact them and ask if they've shipped it yet.
Of course, since I have no paints or painting supplies, the best case scenario is that the mini never shows up. If it does, turning it into a painted mini will cost me a lot more than $7.
Rating: Incomplete
Seeing that dude's sweet Gary Gygax tattoo: $0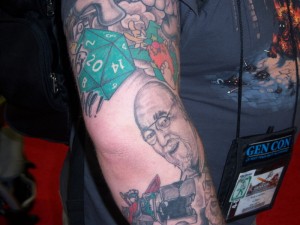 Jason from the Gygax Memorial Fund website and I saw some pretty sweet costumes, but this guy's Gygax-themed tattoo was the most hardcore. The only cost was the psychic toll of being in the presence of so much badassery.
Rating: A+
One ATM Fee: $3
I stood on line for half an hour to get to the ATM, which was my longest ATM line ever, and paid a $3 ATM fee, which is my highest ATM fee ever. With record-breaking numbers like that, I can only give this ATM the highest possible rating! (Actually, since Bank of America later charged me an additional $2 for using an out-of-network ATM, I actually went over my $10 budget. I'm $2 in the hole, but my Google Ads should pay that off by October, at the latest!)
Rating: A+
Overall rating of my ad revenue purchases: A++++ would buy again