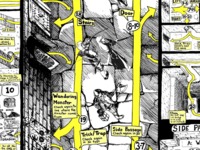 The response to my Random Dungeon kickstarter has totally floored me. Two days after it went live, it's at 150% of its goal!
We've officially hit our first bonus goal of $3000, so everyone who pledged $22 or more will get a bonus signed poster. If you already pledged $17, consider adding $5 to your pledge: you'll either get a second Random Dungeon poster to give to a friend, or a Wandering Monster poster that you can use to populate your random dungeon.
Now we should start talking about what else you guys will get for pledging. If the kickstarter keeps going strong, I'll keep making up bonus goals, and your poster tubes will arrive jangling with all sorts of booty.
Bonus goal #2: If we hit $4000, every backer who's donated at least $22 will get a bonus dwarf in their poster tube. Probably not a real dwarf. Either a patch, sticker, or (my favorite option) a rub-on transfer of the Suspicious Dwarf from the Random Dungeon poster. I had D&D rub-on transfers when I was a kid and they were boss. I'm investigating pricing now and I'll keep you updated.
PDF note: I should also mention that everyone who gets a poster will also get a PDF of the poster: the PDF is not limited to $5 backers.
Art donation: Finally, I've agreed to donate my original artwork to Tim Hutchinson of PlaGMaDA (The Play Generated Map and Document Archive). He might regret that when he sees the bundle of assorted scraps he's getting.
Thank you so much for backing the poster, guys! You're all amazing!