All the posters have shipped! Actually, this was true a couple of days ago, and I'm late with the announcement: many of you have probably gotten your posters by now.
Dan from GameSalute gave me this graphic, which has a number you can call if you haven't gotten a poster by this Friday the 25th.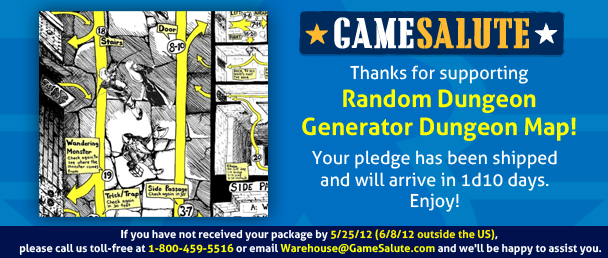 Dan sent me this image on Thursday, so it's actually only 1d10-4 days till you get your package.
Thanks, Dan and GameSalute, for your help with shipping these posters. It would have been pretty much impossible for me to do it alone.
While I'm thanking people: let me tell you about Rich Burlew.
When my kickstarter was approaching 1% of the Order of the Stick total, and I asked Rich if he'd help me out with art, he not only drew me a sticker that same day, he waved off any honorarium or payment. Instead, he asked me to make a donation in his name to one of his favorite charities, like the World Wildlife Fund.
When we passed 2 Burlew Points, it seemed appropriate to make another donation to WWF. It's against the rules of Kickstarter to raise money for charity, so I'm now using my own funds, not Kickstarter profits, to make a donation, which just happens to be 15% of the profits of the kickstarter. The donation is in honor of the amazing D&D kickstarter community.