(Today I'm talking about the art of OD&D, so this post is NSFW inasmuch as you think the OD&D art is NSFW.)
During a D&D game with Mike Mornard, we got to talking about the art in the original Little Brown Books and the Greyhawk supplement.
Greg Bell is listed as one of the illustrators in the original books. You can recognize Greg Bell pics by the blocky outlines.
It seems that Greg copied the compositions of a lot of his pieces from comics of the time: for instance, I bet this picture started its life as a Conan the Barbarian splash page.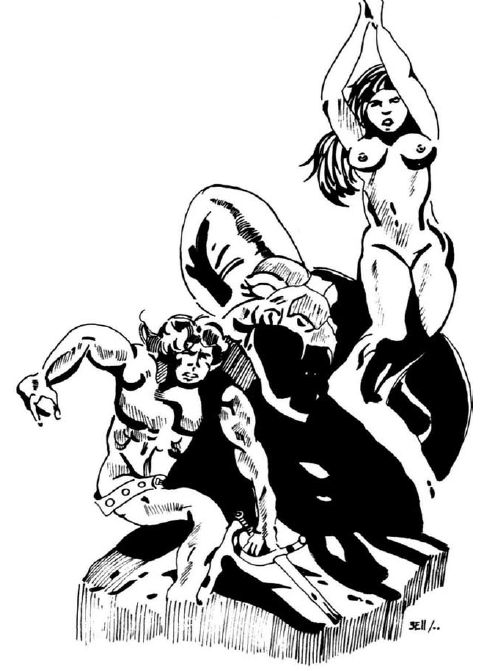 But hey – Greg was a teenager drawing pictures for a friend's semi-amateur zine. I don't think we need to hold him to super high standards here.
Mike Mornard says that, at the time, he hated Greg Bell's pictures and asked Gary why he was using so many of the illustrations. "Because Greg works for $2 a picture," said Gary.
Mike disliked the Bell artwork so much that he went off and recruited an artist who, he believed, could do better: David Sutherland. Mike met David at a Society for Creative Anachronism meeting, saw his drawings, and told him to get in touch with Gary Gygax.
Sutherland's art, of course, became a staple of early TSR work. He drew the adventurers that inspired my dungeon map poster. He also drew a lot of naked ladies. Here are two David Sutherland succubi.
Mornard told us that the body of one of these original succubi was copied from a Playboy centerfold. If I were truly dedicated to D&D history, I would no doubt look through early 70s centerfolds to find the original. I will leave that research project up for grabs.
Speaking of nudity, there were a lot of naked-lady monsters in Oe and 1e. They're often recalled fondly (and only barely creepily) by guys I know who played D&D as kids. A lot of these pieces are by Darlene. Here's Darlene's succubus, this time in a sort of Baroque odalisque pose instead of a Playboy pose: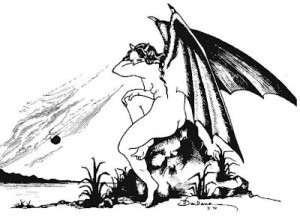 Mike Mornard mentioned that another of the naked-lady pieces from the original book was by a female artist, and that it arrived unsolicited in the mail: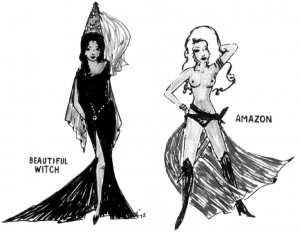 It's interesting that more than half of the nude women of OD&D are by female artists. I have no conclusions I can draw from this, except that it seems that the indie geek scene of the 70s is different from the one I'm familiar with.
Another artist whose OD&D work has always fascinated me is Keenan Powell: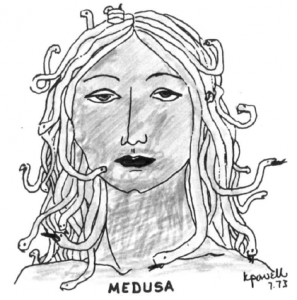 Keenan Powell's amateur, almost outsider-art pictures set the tone, for me, for the OD&D aesthetic. The whole book gives the feeling of being illustrated by gamers who draw pictures, not by artists who play games.
Is Keenan Powell (who's also a female artist, apparently) the same person who drew the Beautiful Witch and Amazon? I can't read the signature on the witch illustration.
While we were on the subject of OD&D art, I asked Mike something which had puzzled me for a long time. "Who drew that stone head in the Greyhawk book? And what was that about?"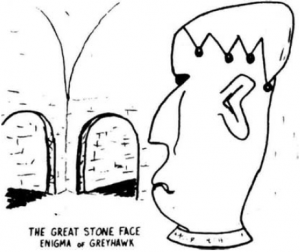 "I think that was by Gary," said Mike. And he didn't know what it was about: it wasn't one of the things he encountered on his trips through the Greyhawk dungeon. As far as Mike knew, the Enigmatic Stone Head might have been something that Rob Kuntz discovered on one of his solo dungeon escavations.
Furthermore, Mike told us, the Carrion Crawler picture from Greyhawk was by Dave Arneson.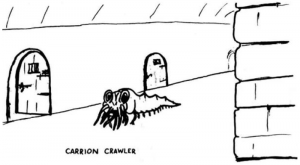 Without hearing it from Mike, I would never have known that these pictures, by the inventors of the game, weren't by the same hand. I might have attributed them to Keenan Powell. I find it somehow touching that these guys, out of their exubrance and their love of the game (and maybe in an effort to save $2) were inspired to draw and share these pictures.
I'm not a professional artist. When I draw a picture and put it up on the Internet, I sometimes feel like it's an act of hubris. Maybe it is, but it's also an act of faith that the world will cut me a break and accept what I can offer. I think that all of these OD&D artists need to be approached on those terms.
Tags: oldschool