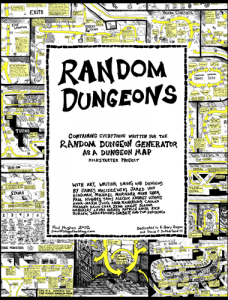 If you'd like the real-book version of every printable reward from my Random Dungeon kickstarter, you can get Random Dungeons, a 180-page book containing every reward made for every backing level, for $19.95. Until December 14, you can use the coupon code FELICITAS to get 20% off the price (for a price of around $16) and it should arrive before Christmas if you order, like, today.
It contains
the art from the Random Dungeon and Random Monster posters
the sticker art by Rich Burlew and other artists
the final Dungeon Robber rules
Paul's DM Notebook, a 64-page book on its own
the All-Star DM notebook, containing new adventures and game tools by Mike Mornard, Mike Shea, Tavis Allison, James Maliszewski, Jared von Hindman, and myself.

My adventure is none other than the dungeon crawl that we're doing in the Mearls sidebar. Watch out for spoilers!