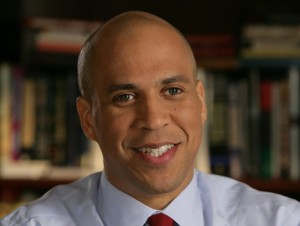 Maybe I'm late to the party, but I just learned about Cory Booker yesterday. He's the Mayor of Newark. He saves people from burning buildings. He's a blizzard hero. He regularly moves to the worst parts of Newark, to clean them up personally.
If he seems more like a D&D character than a regular Earth politician, that's because he's a 12th level human fighter.
I last had a 12th level human fighter RT @justindjacobson Taking a shot in the dark here, Did u ever play Dungeons & Dragons?

— Cory Booker (@CoryBooker) January 4, 2013
That is, he had a 12th level fighter, back in January. This week:
I'm a 10th level fighter. RT @marceldtran: seems like a cool dude. I bet he's really good at dungeons and dragons

— Cory Booker (@CoryBooker) April 10, 2013
Lost two levels! Musta run into a vampire or something. Hang in there, Cory! I know politics is tough, but don't let the negative energy get you down!