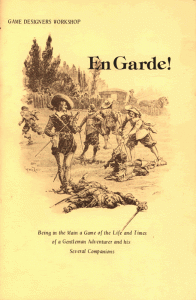 If I had been reading Strategic Review 1.4 in winter 1975, this ad would have caught my eye:
EN GARDE! is Game Designers' Workshop's newest, and most unusual game. The 17th Century, with musketeers, and swordfights in the streets, comes alive as the 40 pages of rules, charts, and tables unfold. In EN GARDE! each player finds himself a person, born and bred for the swashbuckling life of a gentleman adventurer. Status is pursued above all else, even above money. Social climbing is a way of life. The world is inhabited by the likes of Scaramouche, Cyrano and Roxanne, Errol Flynn, Porthos, Athos, Aramis, Rhonda Fleming, Franco is Villon, and, of course, D'Artagnan. There are people to be used, lackies to be abused, the Cardinal's Guard to be trounced, friends to be cultivated, enemies to be humiliated, the hearts of fair ladies to be won, the ear of the King to be gained!

All you need to play EN GARDE! is a pencil, paper, a six-sided die, the EN GARDE! rule booklet, an adventurous imagination, and some friends. . . Rules cover a complete 17th Century society in some hypothetical country, (oh, call it France, if you like). Specific rules include a complete fencing system (to settle those disputes you may have), character generation, social climbing, money, carousing, mistresses, gambling, influence, the military, advancement, everything you need to live a full life, and enjoy every minute of it.

Come with us to those bawdy, rowdy days of yore. . . Sharpen your blade. . . Sharpen your wits. . . Take care not to insult a small man with a large nose. . . All for one and one for all. . . Good luck, friend, and may your swash never buckle!

EN GARDE! $4.00 ppd.
I like the Three Musketeers milieu, and Scaramouche, Flynn, and the rest of them. (I had to look up Rhonda Fleming, and I'm still not sure why she was on the list.)
The promise of rigorous rules for "social climbing, money, carousing, mistresses, gambling, influence, the military, advancement," and "everything else" would have been enough to part me from my $4.00 ppd. It's a lot to jam into 40 pages, though; my guess is that the En Garde rules are about as sketchy as the OD&D rules, or more so.
Also of note: "40 pages of rules, charts, and tables." This was a time when people made a selling point of the quantity of their charts and tables. RPG design has sure changed over 35 years.

According to En Garde's own wikipedia page, En Garde was mostly a play by mail game. I also noticed that Loren Wiseman was listed as one of the designers. That name was familiar to me, since I had just read it in the same 1975 issue of Strategic Review containing the En Garde ad, in this hilarious cartoon: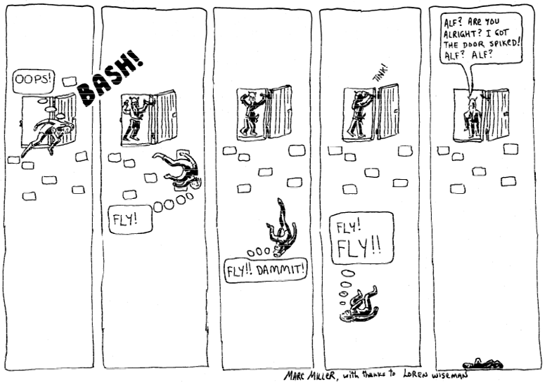 Apparently En Garde is still around and in its fourth edition. It seems to be mostly a play by email/messageboard game. It's fun to see this list of all the currently-running En Garde games, so similar to the Players Wanted sections in the 70's game zines or the Strategic Review list of all the DMs looking for players. I'm kind of tempted to try one of the En Garde games out.