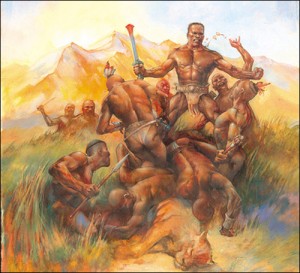 Charles Saunders' Imaro might be the best sword-and-sorcery successor to Robert E Howard's Conan the Barbarian. In my opinion, Imaro beats C. L. Moore's Jirel of Joiry by a hair and Gardner F Fox's Kothar the Barbarian by a mile. (Kothar's pretty hacky but, I admit, I love it anyway.)
Imaro is a black hero in a vast fantasy Africa. The African plains setting gives Imaro plenty of room to flex his muscles, and plenty of beasts to overpower, sorcerers to kill, and ruins to plumb. Compared to this setting, fantasy Europe seems claustrophobic, but I guess there are more literary agents in fantasy Europe: Imaro is out of print. After its debut in the 70s, there wasn't a reprint of the original Imaro stories until 2006. Now those are out of print as well. Look how expensive Imaro books are on Amazon: even used copies are $40 to $100. The cheapest way to get the first book is actually the $21 audiobook.
I have the 2006 reprints of books 1 and 2, and I thought that was all the Imaro there was. I just learned that Charles Saunders is still publishing Imaro books on Lulu. Maybe the best living sword-and-sorcery novelist doesn't have a major book contract (??). And at $20 each, those Lulu books look damn cheap compared to the Amazon prices. The biggest barrier to entry for a new reader is finding a copy of Books 1 and 2.
Here's my recommendation for the budget-conscious barbarian lover:
Buy the audiobook of Imaro for $21
Buy Imaro 2: The Quest for Kush audiobook for $14
Imaro 3: The Trail of Bohu on lulu for $20
Imaro 4: Dossouye on lulu for $20
Imaro 5: the Naama War on lulu for $20