Non-cultivated grassland is a hard terrain to get a handle on because we just don't have a lot of it in the modern world. Africa is a good place to look, along with frontier America.
You need to come up with some reason why any grassland hasn't been snapped up by farmers, herders and empire-builders. One possibility is that it's defended by something – nonhuman nomadic tribes, giants, dinosaurs, dragons – too scary for armies to deal with. Another is that it used to be civilized and it's been conquered by forces of chaos – orc hordes, undead. In the latter case, the plain is a likely location for dungeons and ruins. Each large area of uncultivated plain probably has its own story.
Here's my random encounter table for grassland. Asterisks are for new monsters that I haven't actually designed yet (I like to make up monster stats on the fly, inspired by evocative names.)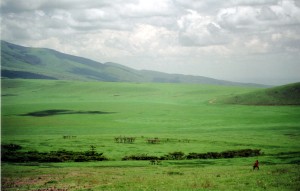 1 Unique monster. You must invent it on the spot, or pull it out of some sourcebook the players have never seen. The PCs will never meet another one of its kind.
2 nomadic people (human barbarian, elf, halfling, centaur, *runner, *ostrichtaur)
3 civilized people (caravans, bandits, armies, pioneers, *landsailors, *city that walks)
4 animal (lion, cheetah, antelope, ostrich, snake, toad)
5 giant herbivore (buffalo, ox, mammoth, elephant, aurochs, rhino, bronto, *mushroom walker)
6 horde (orc, gnoll, hobgoblin, undead)
7 dire animal (*war lion, *saurus, *insect steed, sabertooth, al-miraj, giant toad)
8 dangerous flora (*slumberwood, *green fuzz, *swordgrass, *purpleflower queen)
9 ambush animal (cockatrice, basilisk, ankheg, bullette, trapdoor spider, *flying viper)
10 dog (hyena, wild dog, blink dog, worg, *wicked fox, *hunger hound)
11 fairies (*grass people, *butterfly folk, *mouseling, naiad)
12 swarm (bugs, stirges, *bloodbirds, *singing ants, *undead vermin, *manswarm)
13 sinister ruin (dungeon or underground dweller, troll, ogre, demon, undead, cultists, *crawling cairn, *wild gate)
14 wild steed (horse, pony, giant rabbit/butterfly/bee/grasshopper/kangaroo, *zebracorn)
15 weather (storm, tornado, *firestorm, *vortex, *starfall, *stinking cloud, *cloud chariot, wind walker)
16 flyby (dragon, griffin, hippogriff, *flying turtle island, *air whale, *giant falcon)
17-18 signs of the recent passing of 19-20
19-20 the thing that prevents this plain from being cultivated (hordes, giants, dinosaurs, dragons, undead, beholders, *mad colossi, *sunwraiths, *fire cattle). Once you've chosen it, all 17-20 encounters for this grassland relate to this threat.