Let's assume that all PC backgrounds and traits are assigned randomly (there are 13 backgrounds so about 7.5% of PCs have each background).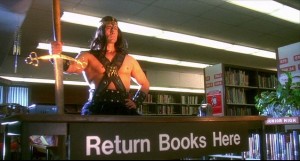 Out of every 1000 Player Characters:
15 are fire eaters. (d10 entertainer routines, of which you get 1d3) Makes sense that this number is so high, since every bad fantasy movie has at least one fire eater per crowd scene. Fire eating is apparently riveting entertainment in Fantasy Europe.
10 are librarians. (d8 sage specialty)
10 are blackmailers. (d8 criminal specialty) Blackmailers are not the most dashing of outlaws, and it's hard to reconcile them with heroic fantasy. Nevertheless, I'm looking forward to many D&D adventures inspired by the life of Charles Augustus Howell..
A whopping 19 are raised by wolves. (d8 outlander personality trait, of which you get two)
4 are guild blacksmiths. (d20 guild business) This might sound naiive, but I absurdly thought that a smith background would be MORE common among adventurers than a raised-by-wolves background. Obviously I was off by a factor of 5. That's why "Smith" is such a rare last name and "Wolfson" is so common.