In Gary Gygax D&D, coins weigh 1/10 of a pound. In WOTC D&D, coins weigh the more historically plausible 1/50 of a pound. Gary's giant coins have been widely mocked as absurd dinner-plate coins. Imagine a pound of gold only being worth 10 GP! Imagine how big that coin must be!
But hold on. Let's put aside copper and silver and concentrate on gold. Gold is heavy. Exactly how big would a 1/10-pound gold coin be?
Let's take the largest widely-used American coin: the silver dollar. The Eisenhower dollar (which is copper/nickel) and its silver predecessors (like the Morgan dollar, which is 90% silver) are one and a half inches in diameter. The Morgan dollar weighed .058 of a pound. Gold is 1.84x as dense as silver. Multiply gold's density by the silver coin's weight and you get: 106/1000. In other words, a gold coin the size of an Eisenhower dollar would weigh a tenth of a pound – a little more even.
The silver dollar is a big coin, but it's not dinner-plate-sized by any means. It fits in your pocket. It was legal tender and it was reasonably common. Even if it weighed twice as much as it did, it would still not have yanked your pants down by their pockets.
If you want to get a sense of how big a silver dollar, and thus a 1/10# D&D gold coin is, look at a poker chip. That's about one and a half inches in diameter.
OK, all very well and good, but historical gold coins do weigh much less than a tenth of a pound. They tend to be thin little slivers, more like a US penny. Shouldn't we match historical reality, in which gold coins tended to be about 1/50 of a pound?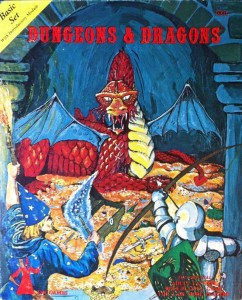 I say we should not. D&D economy really doesn't line up with Earth history to begin with. For one thing, prices are about 10x too high. For another thing, every dragon is sleeping on a bed of gold, even though on Earth, the total gold mined before 1950 would fit in one Olympic swimming pool. Gold is clearly much more common in D&D than on it was in medieval Earth.
Accept that premise and a lot of problems go away. You don't need to go to a silver standard to match Earth historical prices. Just accept that a pound of gold buys you a longsword; laborers earn a gold piece a day instead of a silver groat; even in a back country tavern, you don't cause a riot by flashing gold; and for larger transactions, higher currency must be used, like platinum and gems. None of this is absurd. It's only fantastical. It assumes that, for whatever reason, D&D worlds ended up with heavier elements than did Earth. In such a world, gold coins would be large and heavy, just as silver coins were large and heavy at the time of the Morgan silver dollar.
Of course, my weight calculations only hold true for gold and platinum. Silver coins of 1/10 pound would be bigger than an inch and a half, and copper coins would be bigger still. But that doesn't really matter. Silver as a currency disappears from D&D at character level 2, and even first level parties disdain hoards of copper coins. It's not worth the rules weight to assign them specific lighter weights. Just say that coins are 1/10 pounds and all your calculations will be easy.