There have been a lot of open-source old-school game clones: OSRIC, Labyrinth Lord, etc, letting people legally produce content compatible with older games. One game that has been sadly neglected is Mazes and Monsters
. Who among us doesn't have fond childhood memories of spelunking in costume until our friend Tom Hanks went crazy?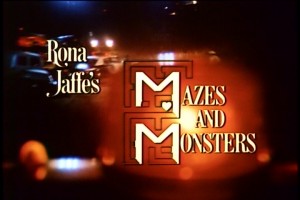 Well, not me, because I was never lucky enough to find a M&M group – I had to make do with Dungeons and Dragons. Rona Jaffe's Mazes and Monsters sure made M&M look intriguing though. Evil creatures! Traps! Descent into madness! Hats!
It's been suggested that there never was a M&M game – that the Mazes and Monsters movie is an excoriating criticism of a fictionalized version of D&D. If so, it is a dismal failure, because as we can see from the movie, MAZES AND MONSTERS IS NOTHING LIKE DUNGEONS AND DRAGONS. Therefore, unless we are to assume that Rona Jaffe and everyone involved in the movie are total idiots who didn't bother to do the most trivial speck of research, we must assume that the movie is an excoriating criticism of a real game called Mazes and Monsters that I have just never heard of.
Rulebooks of Mazes and Monsters are hard to come by; luckily Rona Jaffe's movie contains a wealth of gaming detail – enough, I think, to make a workable retro-clone. I volunteer to watch the movie and glean any rules details. The M&M community will have to help fill in any rules gaps with memories and speculation!
My first question for the community: Since the name "Mazes and Monsters" is undoubtedly under copyright, what should we call our retro clone? The suggestions that come to my mind are
Mazes and Hanksters
Mazes and MOSRIC
Rona Jaffe's Dungeons and Dragons
Vote or leave suggestions in the comments!
Let's start watching the movie!
Media Uproar
The movie begins with wailing police sirens and a be-trenchcoated reporter doing a story about a Mazes and Monsters-related disappearance. Even in his media fearmongering, though, we can find good material for our game:
REPORTER: Mazes and Monsters is a fantasy role-playing game in which players create imaginary characters. These characters are then plunged into a fantasy world of imagined terrors. The point of the game is to amass a fortune without being killed. It's kind of a psychodrama, you might say, where these people deal with problems in their lives by acting them out.
This is good stuff! Let's use it for page 1 of our game!
(more…)