Raise your hand if you'd like to see Tom Hanks harassed by street toughs! Because it's HAPPENING RIGHT NOW.
While Tom Hanks' friends are searching for him fruitlessly, he's totally been subsumed by his Mazes and Monsters persona. As Pardieux, he's haplessly stumbling around 80's New York, which as we know is grittier, uglier, more lawless, and generally more old-school than modern New York.
Naturally, it's not long before he has an encounter with 1d3 human bandits.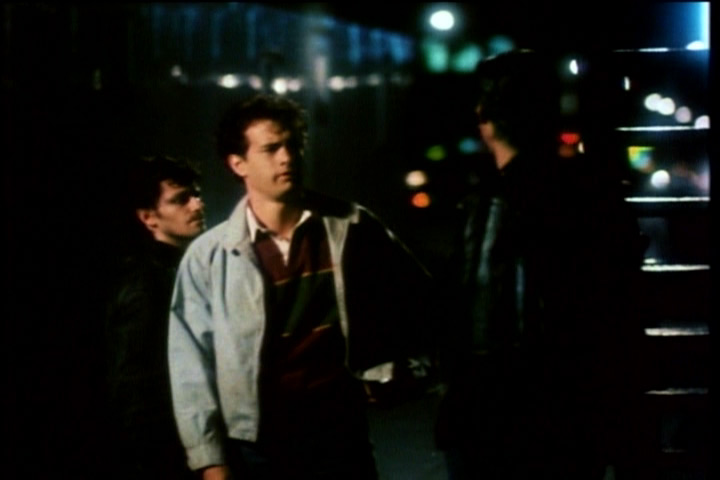 Notice that Tom Hanks, in his Pardieux persona, is making no effort to avoid being surrounded by the thugs. Apparently MAZES AND MONSTERS DOES NOT HAVE FLANKING RULES.
The thugs notice Tom Hanks' little leather dice bag.
THUG: Hey, what is that? Give it to me!
HANKS: It's my spells! I guard them with my life.
Confirmed: spells are physical objects which can be held in a dice bag.
Spells are small physical objects which you can find in a maze, each of which can trigger a unique magic power. If you have a sufficiently high Level, and are of a spell-casting class, you can cast these spells. Spells are reusable.
Tom runs from the two muggers, but is cornered in an alley. He takes out what appears to be a flower petal from his dice bag and flourishes it at the thugs, but it has no effect.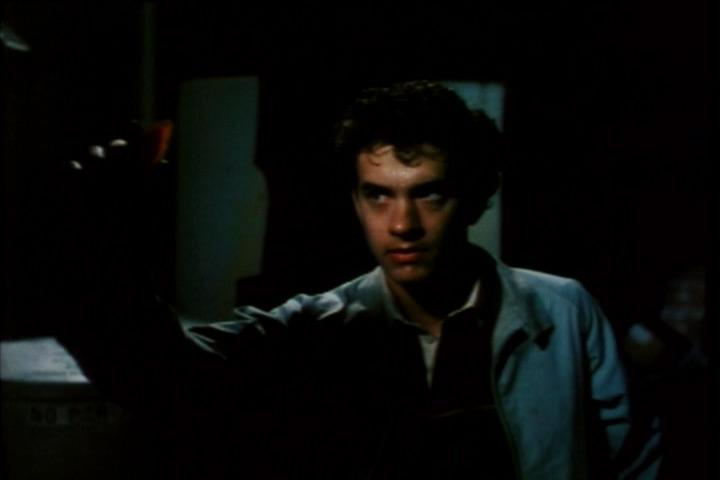 I guess he doesn't have enough mana or something. Or maybe they made their saving throw.
One of the muggers lumbers forward, and, through Tom Hank's Mazed eyes, we see it as a horrible monster!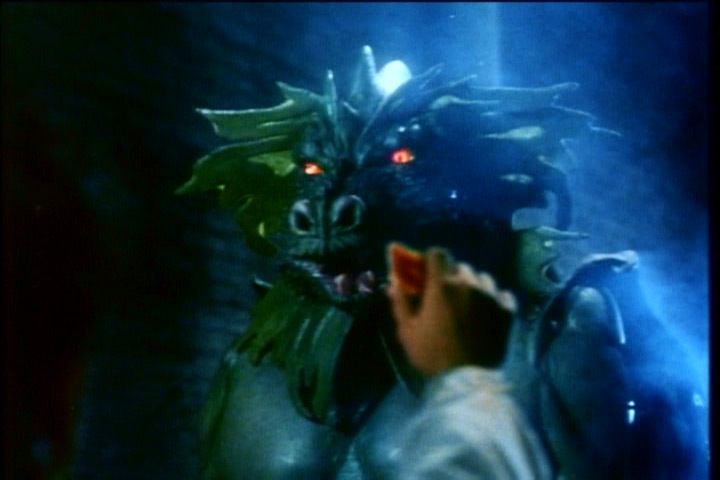 I think that's a Gorville, right? Based on the frequency with which Tom encounters them, Gorvilles must be like the orcs of the Mazes and Monsters setting. Where do they get their crazy name? Illinois, I'm guessing.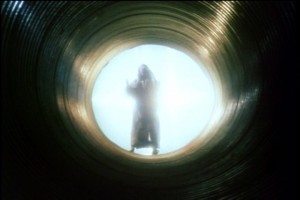 A Holy Man is supposed to prefer spells and reason to violence. Tom Hanks has tried spells on the thugs. He doesn't really make any effort to try reason; he instead scuffles with the thugs, and he ends up stabbing one of them with a switchblade. Bad Holy Man! No Experience for you! The Great Hall must be rolling over in his foggy tube.
After a brief interlude of sanity, during which he summons his allies via payphone, Tom loses it again and finds an open door that leads to the tunnels beneath the subway. "A maze!" he breathes.
How do people find these entrances to off-limits subterranean complexes beneath cities? It looks so easy for the guys in Mazes and Monsters, Beauty and the Beast, and Neverwhere. I've been commuting in New York for years and I've never passed an unguarded door marked "Steam Tunnels: Absolutely No Admittance Unless You Are On a Hero's Journey." But maybe the doors are there and my workaday eyes just can't see them.
The steam tunnels are fairly light on monsters, but Tom Hanks does cower and cover his ears when he hears a train going past. He decides that the noise must be the passing of the "Giant Dragon."
Bestiary
Dragon: The Dragon breathes fire on his foes.
Giant Dragon: The Giant Dragon's roar is a Sonic attack that deafens all who hear it.
Next, Tom Hanks meets a crazy moleman (a friendly NPC) and pumps him for information.
Not everyone you meet in a Maze will be hostile. You may encounter other adventurers, wise guides, or peasants scraping out a living among the maze's many perils. Make sure to ask for aid and information, for foreknowledge of the dangers ahead may spell the difference between victory and death!
"Can you tell me of the Giant Dragon?" Tom asks the puzzled moleman. "Does he stand guard over the treasure?"
Clever, Tom Hanks! Do your legwork before you fight the dragon. It's investigative chops like that that will land you your role in Dragnet.
The Giant Dragon is a Boss monster, worthy to stand guard over the maze's treasure.
Note to the Maze Controller: Not every Boss monster guards the maze's treasure. A Maze may contain a second Boss monster, whose purpose is to decoy rash players into unnecessary danger. Players should make sure that powerful creatures guard a treasure before they run such a risk as to offer battle.

Similarly, a treasure may be hidden with no Boss monster to mark its location. In such a case, you may be sure it will be cleverly hidden and guarded by many cunning Traps!
Next Monday, the LAST RECAP OF MAZES AND MONSTERS, complete with lots of creepy footage of the Twin Towers, and a magificent closing monologue from Tom Hanks that will cement his place in history as America's Foremost Actor. Don't miss it!
Tags: mazesandmonsters