"He's a dark elf wizard and he's put some kind of hold on Derek!" Elistan cried. "Keep him from casting spells!"

-The Magic of Krynn (Dragonlance Tales, Volume 1)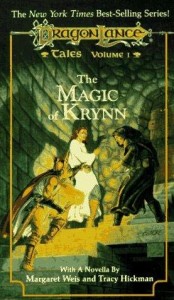 Every D&D rule change comes with tradeoffs. In 4th edition, wizards were rebalanced. The advantage is that they are no longer overpowered compared to other classes. The disadvantage is that they are no longer overpowered compared to other classes.
I kind of miss the panic that set in when earlier-edition parties met a wizard, and all the maneuvering (by the party and the DM) to hit a wizard before he finishes his spell. However, honestly, 4th edition works perfectly well without it.
That's not a reason to tinker with what ain't broke, though. I'd like to try to return wizards to their place as fearsome super-artillery without overpowering them (much). Here's my plan.
4e wizards may cast attack spells normally, or they may cast them as a "rite" (sort of halfway between an attack spell and a ritual, and analagous to 3rd edition spells with a full-round casting time). Casting a spell as a rite ends your turn and has no immediate effect.
On your next turn, you may finish the rite as a standard action. You cast the spell normally, except that any hit by the spell is a guaranteed critical hit.
During your casting of the spell, you are saying magic words, performing ritual gestures, and doing other wizardy things. If your concentration is broken, you lose the spell. Non-damaging forced movement, being knocked prone, being grabbed, etc. forces an Endurance check of 5 + 1/2 the attacker's level to avoid breaking concentration. If damage is done to the wizard, the DC of the Endurance check is equal to the damage.
Is this option too underpowered (never used) or overpowered (always used)? It seems to me that it will be situational. Spending two turns to do slightly more than double damage starts out pretty balanced; if it's successfully used with a daily power, it's quite good indeed. However, if there is any chance of the rite being interrupted, it might be too risky to use it. Wizards might only use it when they're in a position where they think they can avoid attack for a turn.
Rites might be used by the DM more often than they are used by PC wizards. A wizard who has begun a rite becomes a fearsome threat and may cause an abrupt change in the PCs' tactics.
Tags: everybook