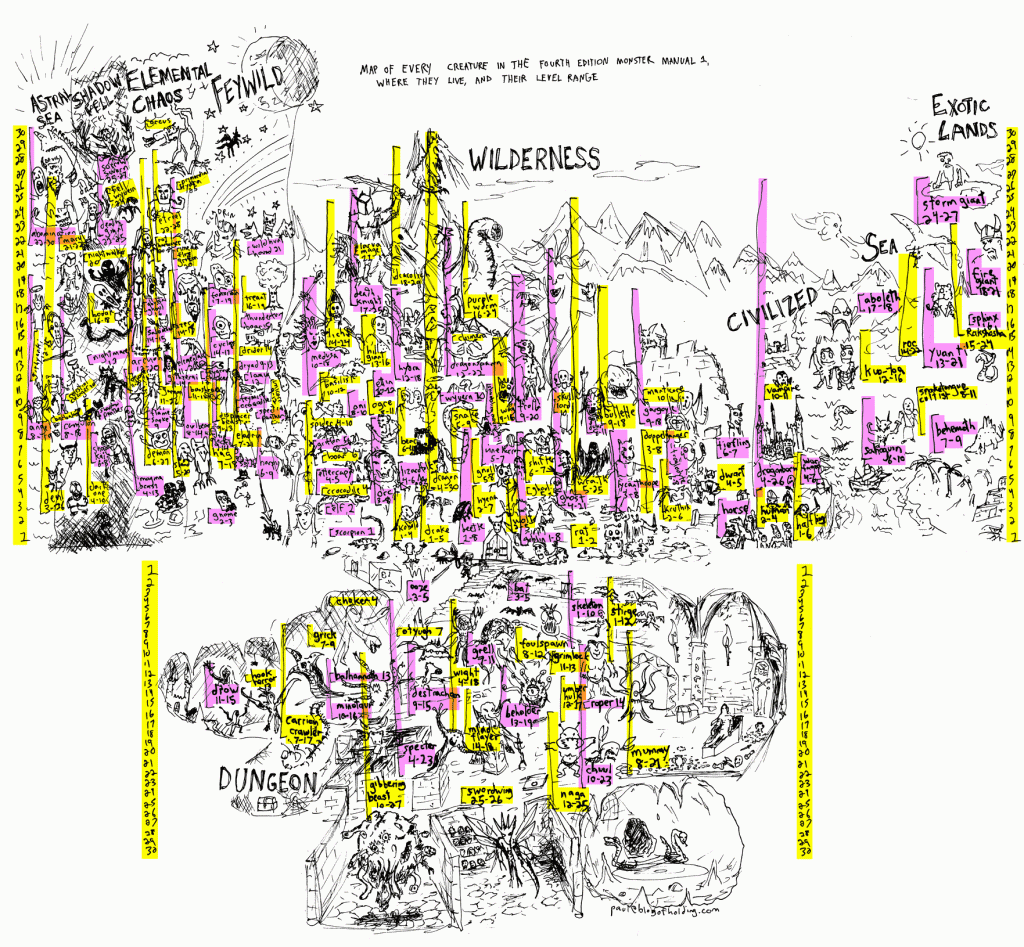 (Click for unreasonably large size)
I crammed pretty much every MM1 creature on one image.
Every monster has a level band, showing the level range between the highest and lowest version of the monster. Monsters are divided up according to their most common location: the planes, the wilderness, civilization, the sea, exotic lands, and the dungeon.
Although it's not necessarily the best way to make encounters, you could cross-index the level and location of your party and see at a glance all the monsters they're likely to encounter.
Assumptions:
For level band purposes, I'm ignoring minions, which I believe are game constructs for representing monsters of significantly lower level.
I've made a lot of judgment calls. Some creatures with planar origins are common in the natural world, but I only drew them once. I tried to rely on flavor text. A lot of undead can be found anywhere; I've somewhat arbitrarily split them between the wilderness and dungeon, depending on whether I associate them with crypts.
I didn't plot monsters constructed by wizards, such as battlebriar, boneclaw, colossus, eidolon, flameskull, golem, guardian, helmed horror, homunculus, and zombie. I did include skeletons, which tend to outlast their creators.
I've also identified some monsters as "exotic": creatures likely to be found on lost continents, distant deserts, and frozen wastes, not the magical Europe that most D&D campaigns start in. Culturally imperialist distinction? Perhaps.
I've generally anchored monster names at the bottom of the level bands because I think that the low-level versions usually represent the bulk of the species, and the high-level versions are usually leaders or champions.