I drew this map for two marathon sessions of picaresque gaming this weekend, and the players seemed to like it. You guys can use it if you want: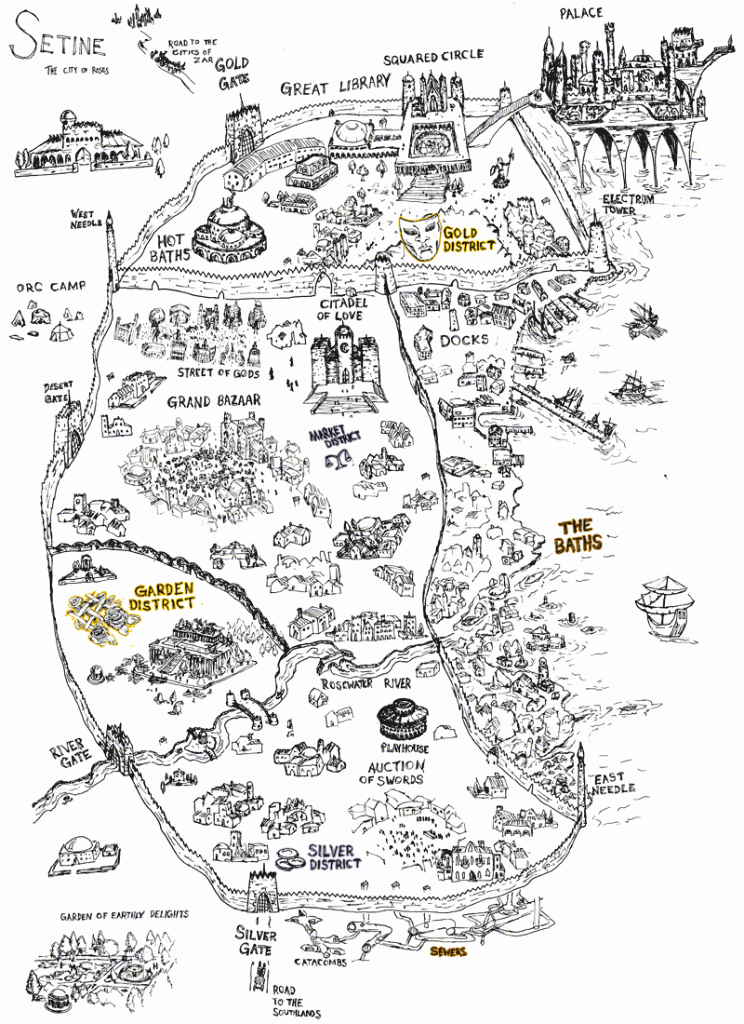 If you'd like to print it, here's a PDF version.
Here's a couple of things that happened in Setine over the course of the weekend:
-Rory (playing the new Vampire class to the hilt) purchased the loyalty of enough guild beggars to attract the notice of Vomit, the leader of the beggar's guild. Vomit looks to be gearing up for a turf war.
-The cleric of St. Jimmy has gotten his ludicrous cult recognized as an official civic religion. Tenets of the religion include the fact that St. Jimmy has a volcano in his forehead and there are mermaids swimming in your well water. The business formerly known as Hank's Hardware is now known as St. Jimmy's Temple, Hardware, and Gifts.
-Claire, the disgraced paladin, discovered the rotten core at the center of the Temple of Love. (The PCs subsequently stole the rotten core and fenced it for much less than it was worth.)
-The Playhouse is performing a 15-minute-long onomatopoeic play by Bang the Wizard, in which an eladrin falls off a ladder. It sounds pretty artsy to me, but apparently it's doing pretty well. Unfortunately, Bang didn't read the fine print of the contract and accidentally signed herself into a five-year commitment.
-The apprentice thief needs to plan a masterwork robbery in order to be promoted, and couldn't be happier. On the other hand, the avenger is beginning to discover the nature of his god, and isn't quite as happy about it.
-Lord Percival spent a lot of his money on a horse, which he lost, and the rest of his money ended up in the pocket of his butler.