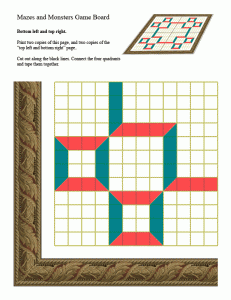 You probably remember sitting around with your friends playing Mazes and Monsters back in the 80s, but your mom threw away all your M&M stuff during the Tom Hanks Scare of '82. And original Mazes and Monsters gamebooks are so hard to find on eBay! How are you supposed to play M&M retro clones?
Problem solved! I've lovingly restored the Mazes and Monsters game board onto hand-crafted free PDFs. Just print out two of each PDF and tape them together.
Mazes and Monsters board, bottom left and top right
Mazes and Monsters board, top left and bottom right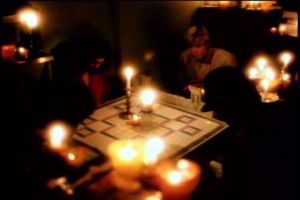 Between this and the Maze Controller's screen, you're just about ready to descend into a spiral of fantasy and madness. Candles not included!
Coming in a week or two: Paper-doll minis, suitable for Mazes and Monsters, or for any game system that features fighters, holy men, and frenetics.
Tags: mazesandmonsters