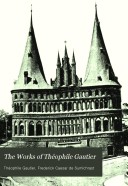 The roof, of dark red tiles, was disfigured by many large, leprous-looking, yellow patches, while in some places the decayed rafters had given way…

The apartments on the ground floor contained nothing but a few bundles of straw, a heap of corn-cobs, and some antiquated gardening implements.
Captain Fracasse, an episodic 1863 adventure novel, has given me more inspiration for D&D adventures than any book since African Civilizations. And it started on page 1, with a description of a ruined chateau.
I'm reminded of the sample dungeon in my 1983 Red Box DM's book, which had comparable readaloud text:
As you approach, you see that the walls are jagged and full of small holes, and a few large stone blocks have tumbled to the earth, lying around the ruins. A gateway in the center of the front wall stands empty, and the massive outer doors now lay rotting nearby…

The room is 30'x30′, with doorways in the north and east walls; the doors are missing. The room is filled with boxes and crates of many shapes and sizes, and looks like a storage area.
Furthermore, I'm certain that the "leprous-looking yellow patches" in Captain Fracasse are patches of Yellow Mold, which also featured in the Red Box dungeon.
My guess is that Fracasse's bundle of straw hides a valuable bracelet, and the corncobs mark the lair of some monster (perhaps a cabal of hideous pig-men?) The gardening implements are just gardening implements.
That's page 1 out of the way! Later on in the book, there will be fencing, fighting, giants*, true love… you name it. I'll post more later.
*In Captain Fracasse, unlike in The Princess Bride, the giants are just guys on stilts.
Tags: everybook