Molten core, just like earth.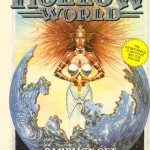 It's hollow, with a floating sun in the center making a perennial noon, and the concave surface of the hollow earth is populated with exotic tropical creatures (possibly dinosaurs, Barsoomians, or snake-men).
The 666 levels of Hell. The surface of the earth is a thin skin, blessed by the gods to keep the infernal legions from boiling out into the universe. That's why, whenever dwarves dig too deep, they hit a vein of balrogs.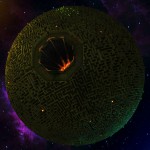 An interlocking megadungeon millions of levels deep, each more dangerous than the last. Dungeon level 1 is mostly inhabited by level 1 monsters, dungeon level 2 by level 2 monsters, etc. If each dungeon level is, on average, 20 feet deep, and the radius of the world is 41,000,000 feet, the creature slumbering in the deepest dungeon chamber is level 2 million (or has 2 million hit dice, depending on edition).
Nothing – my game world is flat.
Molten chocolate core.
Other (described in the comments):