He then climbed down from his palm tree and removed the soil with his hands until he had uncovered the chest and freed it from the hole. With a big stone he struck and broke its lock and, after lifting the lid, he looked inside. There he saw a girl in a drugged sleep, with her breast rising and falling as she breathed. She was very beautiful, and was wearing ornaments, gold jewellery and jewelled necklaces, priceless stuff worth a sultan's kingdom.
-1001 Nights
This variation on the Sleeping Beauty theme provides a good way to fill out a treasure chest. Inside the maiden's mouth is a pill: if it is removed, she will wake up. She is a princess, kidnapped and held for ransom, but her kidnappers are long dead. She has been sleeping in the chest for thousands of years. She would have been worth a fortune in reward money a few thousand years ago; but the last of her line is long gone. At least she comes with jewelry.
For extra fun, the PCs are following an ancient rumor that, somewhere in the dungeon, there is a beautiful gem of great mystic power. She is it. The princess was known, in her day, as the Jacinth of Inestimable Beauty. She is a powerful enchantress. Too bad her spell books have been dust for centuries.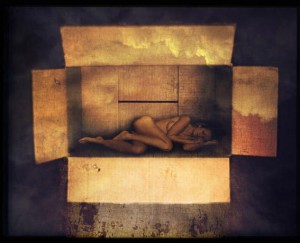 Also of note about the princess in the chest: a PC's innocent question "How big is the chest?" led to a hilarious misunderstanding that ended with the party demanding that I rolled for the princess's breast size. They were outraged that there was no chart for this in OD&D. I rolled a d6 and got a 2. The girls in the group informed me that that was a B cup.
I used this gimmick in my last OD&D dungeon crawl. The PCs discovered the sleeping pill in the princess's mouth when their chaste kisses failed to wake her and they resorted to french kissing.
Although Jacinth was a high-level magic-user, she was useless to the first-level party because both the party elves had randomly rolled "Read Magic" and "Comprehend Languages" as their two spells. Because she was a princess and a magic-user, she wouldn't engage in physical combat. The pill that grants immortal sleep was actually the most useful part of the treasure.
Tags: everybook