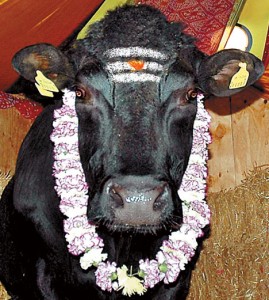 A few weeks ago, I ran a one-shot picaresque game. One of the players decided that her character, a gullible paladin, worshiped "St. Jimmy", whose tenets were that the world is full of water and every well contains mermaids. She had been tricked into worshiping this nonexistent god by a con man who sold her a snow globe as a holy relic.
This weekend, at the Arneson Game Day event, I ran another one-shot. I recycled a bunch of pre-used level-1 character sheets, including the paladin with "St. Jimmy" written down as the deity.
During the course of the game, the players went through a magical gate into a land that time forgot, stocked with cave men and wooly mammoths. A new player, playing the recycled St. Jimmy-worshiping paladin, took the lead in negotiations. Hijinx ensued (as they so often do), involving:
an illusory three-headed red dragon, which one of the PCs could puppeteer with a magical red glove
a NPC dwarf ("Stout Stoutheart") riding a cow ("Muscles")
a fermented milk drink brewed by the party cleric/milkmaid
Between the alcohol, the red dragon and the revelations about animal husbandry, the party successfully proselytized the cave men. They were soon gleefully grunting a pre-verbal approximation of "St. Jimmy" while carrying the PCs around on their shoulders.
When the cavemen indicated that they wanted to commemorate their new god in cave art, and asked what St. Jimmy looked like, the paladin pointed at Muscles the cow.
When the PCs were preparing to return home, they speculated about whether the portal had taken them to a forgotten caveman island or whether they had gone back in time, and, Ray Bradbury-like, totally changed the future.
I had been thinking the portal led to an isolated caveman area, but the time travel option seemed more interesting. When the party returned home, I told them, "You are disappointed to discover that nothing has changed. St. Jimmy is still the dominant deity of the pantheon, worshiped in the form of the Sacred Cow. St. Jimmy's chief angel is still a three-headed red dragon. And kumiss is still the sacred drink."
And that's how two different groups of players, over the course of two one-shots, created a religion, took it back in time, and gave my campaign world a strange new chief god, without me lifting a finger.
Here's a question for linguists: What will the name "St. Jimmy" sound like after it's been passed down for tens of thousands of years? Apply Grimm's and other applicable laws.