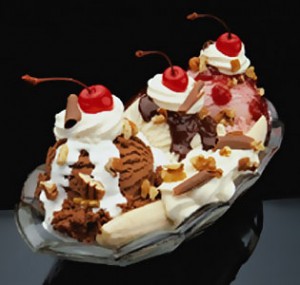 When you're asking me what I want for dinner, don't offer me a choice between, say, carrots and ice cream. And when I'm choosing a feat, don't make me choose between, say, improved Diplomacy and +1 to hit in combat. Combat is ice cream, and I'll choose ice cream every time. And I'll make myself sick.
Separate the combat and noncombat abilities into two different courses. Give me a main course, where my dwarf fighter can choose between, say, the ability to detect new construction or slanted passages. Then for dessert I can choose between +1 to hit or +2 to damage with my trusty axe.
I know a lot of people will say that overindulging on combat abilities is a player problem, not a rules problem. Sure, if you're disciplined, and you have a strong character concept, you might turn down the cool sword in order to pour money into your barony. And there are always a few people who genuinely prefer the carrots of character flavor to the sundae of combat optimization. But a lot of people are like me: given the choice, we'll choose the ice cream and then feel disappointed that dinner didn't feel nourishing at all. The perfect system would save me from my gluttony and force me to eat a balanced diet.
Given "Don't Make Me Refuse the Ice Cream" as a design principle, here are some requests for 5th edition D&D.
You shouldn't be able to buy combat-boosting magic items. Rory's excellent magic items article makes a lot of good points, this among them. If it's possible to buy a sword with a bigger plus, then that's the ice cream, sitting there ruining the rest of the menu. Versatility items, like wolfsbane, rituals, and flying carpets, and fun story items, like castles and battleships, shouldn't have to compete with +5 swords.

That's not to say that noncombat "story items" require loose, improv rules. Rules make D&D combat inherently rewarding, and that will be true with subsystems as well. If I invest in a castle and army, agonizing about whether I should get 50 knights or 200 spearmen, I expect my decision to matter. You shouldn't be able to buy a +5 sword, but maybe you should be able to buy, say, a +5 castle.
You shouldn't have to choose between combat and noncombat feats. "Linguist" is the veggies and "Weapon specialization" is the ice cream. They should be in separate courses: maybe you choose a combat feat at even levels and a noncombat feat at odd.
You shouldn't have to choose between a striker and a support class. Strikers are the ice cream. When playing Shadowrun, I noticed that my group tended towards one combat-weak character with social skills, and four combat-oriented street samurai. Clearly, it would be better to have five street samurai, each of which specialized in a different noncombat skillset. The same goes for D&D. Instead of choosing between an id-monster striker and a responsible but boring leader, every class should have striker abilities, as well as a useful secondary role: tanking, healing, range, or mobility. Each class might get its striker damage bonus in a different way: the rogue by flanking, the fighter by punishing someone who ignores her, the cleric by blasting those who ignore his divine commands, and the wizard by getting far enough away from enemies that she can concentrate on perfecting her spell.
Spells and powers are – uh – fine. 4e separated spells into attack powers, utility powers, and rituals. This fixed the "cleric only casts Cure Light Wounds" and "wizard only casts Sleep" problems that caused so many cool level-1 spells to languish unused. The only change I'd request is that utility powers be even more noncombat-oriented. Many utilities give bonuses to defenses and temporary hit points. These are only useful in combat. The coolest utilities grant abilities that are useful out of combat: high jumps, disguise, pickpocketing, stuff like that.