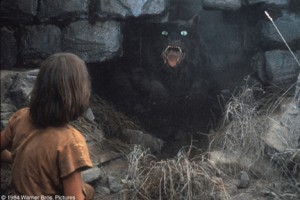 "The meat!" came a panted whisper. … He picked up the piece of meat and tossed it outside. It vanished immediately, and he heard the sounds of chewing. "That is all?" came the voice, after a time. "Half of my own ration, as I promised," he whispered.

"I am very hungry. I fear I must eat you also. I am sorry."

"I know that. And I, too, am sorry, but what I have left must feed me until I reach the Tower of Ice. Also, I must destroy you if you attempt to take me."

"The Tower of Ice? You will die there and the food be wasted, your own body-meat be wasted." …

The white beast panted for a time. Then: "I am so hungry," it said again. "Soon I must try to take you. Some things are worse than death."

–Roger Zelazny, Dilvish the Damned
I think that similar creatures in other books – often wolves, perhaps – apologize for their desire to eat the protagonist. Am I thinking of the Neverending Story? Something in Narnia?
Anyway, it's not a bad trick for making a random encounter feel very creepy and personal, and a little sad as well. Play up the creature's struggle as much as you want – maybe make it indebted to the PCs, to increase its guilt and anguish.
Ultimately, as much as a PC may feel sorry for such a creature, they'll have to kill it, now or later; and it will be a mercy killing.
Like so many things in fantasy (and horror), including vampires, this creature's relationship to the PCs seems like a symbol for some other, more disturbing human relationship. Fantasy handles these layers well. This is one of the reasons I'm not particularly interested in dealing with real-life disturbing issues in-game. Fantasy seems to me like a genre where these monsters are best transformed before they are fought.
Tags: everybook