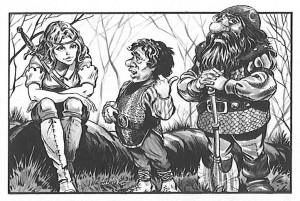 My guess: D&D Next will reintroduce "dwarf", "elf" and "halfling" as classes, along with wizard, rogue, fighter, and cleric, so we'll have the same stable of 7 classes that we had in Basic D&D.
Legends and Lore seems to be where Mearls floats 5e ideas. Check out this passage from the Legends and Lore article Head of the Class:
You could even collapse race down into the core options: The dwarf could be expressed as a core class, a fighter progression that focuses on durability, defense, and expertise with an axe or hammer. The core elf uses the multiclass rules to combine fighter and wizard, and the core halfling uses a preset rogue advancement chart. Choosing race could be part of the advanced rules…
It could be that this was just Mike hypothesizing about the advantages of a "core" and "advanced" section of the rules. However, it could also suggest that, at least at some time in 5e development, the 5e "core" contained class races.
My other rather wild speculation about "core" is that it will be released under an OGL-type license, while the "advanced" rules might not be. This would let third parties make 5e-compatible products while making Wizards IP lawyers happy.