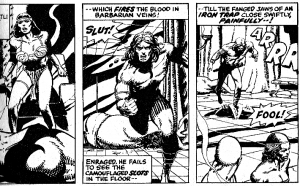 For me, dungeon traps are an unsolved problem in 4e. I'd like something between a full-fledged 4e skill-challenge trap and the old-school spanking for not tapping every flagstone with a ten-foot pole. I've made attempts to solve the problem, but I haven't been happy with any of them. (My favorite so far is the Mazes and Monsters rule: the Maze Controller cannot spring a trap unless he has announced that it "could be a trap".)
The above panels from "Red Nails" in the 1970's Savage Sword of Conan comic gave me an idea. Conan would TOTALLY have spotted that bear trap if he hadn't been raging – and running.
How about this rule: Under normal circumstances, all PCs spot all adjacent traps – no Perception check required.
PCs only fail to notice traps when they're running or charging (and maybe also a handful of other distracting conditions: dazed, stunned, or blinded).
With this rule, traps are most dangerous in combat, and in very specific circumstances like chases: in other words, they add danger to already dangerous scenes, instead of slowing down routine situations. It's the DM's job, as the roleplayer of the ancient dungeon architect and the kobold snaremaster, to put traps in places where PCs will be tempted to rush heedlessly.