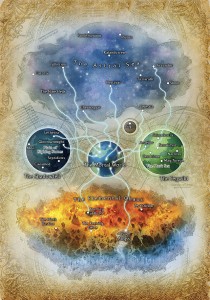 Planes of existence are just as good as the adventure opportunities they offer. I've always found planar travel pretty boring, but some of the new 4e planes have something to offer. Since the 5e devs are talking about returning to the Great Wheel cosmology, this would be a good time to take a look at the Feywild, Shadowfell, Elemental Chaos, Astral Sea, and Outer Realms.
Feywild: When you travel in the world of faerie, you should meet truly odd NPCs and encounter fairy-tale magical thinking where everything comes in threes. And you can use this awesome world map! The only problem is that it seems like it requires a superhuman DM to maintain the level of wonder that the Feywild promises. Grade: B+
shadowfell: If you have an idea for a spooky horror one-shot, might as well put it in a realm in the Shadowfell. That way the PCs can't just leave if they get too spooked, and you can introduce implausible elements like the Land of Eternal Night and the Country of Graveyards that just don't fit on your world map. I think the Shadowfell's main city of Gloomwrought is insufficiently spooky, but that can be ignored. Grade: A
Elemental Chaos: 4e mixed all the planes together, so in the Elemental Chaos you might adventure on a burning iceberg or climb a lightning volcano. It's 4x as exciting as the elemental planes of older editions, and it's STILL too boring to use. It inspires in me ideas for interesting tactical encounters but no adventure hooks to go with them. The bottom of the plane is crawling with demons, so I guess that's something. Grade: C
Astral Sea: The realms of the gods are islands floating on a silver sea. In theory, this is a really exciting setting. In fact, I doubt my ability to convey the wonder and awe of the lands of the gods. The gods and their realms are things you should be able to glimpse, and carry that sacred memory to your grave, but in 4e you can move to Hestavar, the Bright City, and become a greengrocer. If describing the realms of the gods sounds too ambitious for you, you can always have nautical adventures fighting Githyanki pirates on the astral seas. This would be better if I didn't find Githyanki so boring. Grade: C
Outer Realms: People don't go to the outer realms: they're from there. They're fun as a source of weird otherness and horrific threats. They're a bit of an exception to my rule: even though there aren't a lot of obvious great adventuring possibilities on the plane itself, it's still nice to have it around: the threats from the plane can spark adventures. That's kind of a cop out, so I'll give the Outer Realms a B-.
Overall Grade of 4e Planes: B
Bonus rating: The natural world. It boasts a huge variety of settings, from tundra to desert to urban pubcrawl to dungeon; there are lots of NPCs; and you can throw in silver seas and lightning volcanoes if you want. Grade: A+.
And that's always been my problem with the planes of existence. A world of magic is such a compelling fantasy that it never seems attractive to visit another, less varied world of magic.
Next time: I'll grade the planes of the Great Wheel cosmology of earlier editions!