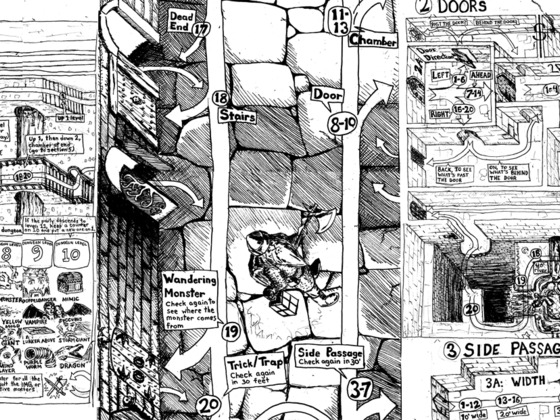 I'm just about sold out of my OD&D Wandering Monster poster, and I'm working on a new poster project. It's a bit hard to explain, but here's my elevator pitch:
1) The 1e Dungeon Master's Guide has an amazing collection of intricately nested d20 charts, each roll on which sends you to another chart, that can be used to generate a random dungeon.
2) Such a set of charts could be re-drawn as a flow chart.
3) A dungeon is basically a flow chart.
Therefore, the procedure for generating a random dungeon can be rendered AS A DUNGEON.
I've started drawing the poster: I have it about half inked. It's a huge project that's been eating a lot of hours. It's currently about 4 feet tall, and it's covered with some pretty tiny illustrations. It will be much larger and more densely illustrated than the monster poster. (The preview above is a very rough, not-cleaned-up version of maybe 7% of the total area of the poster.)
My plan is to get it finished by April, when Wizards reprints the first edition books, so that people can use it to run 1e dungeon crawls.
Printing is going to be more expensive than for the monster poster, so I might either do a kickstarter or ask for a show of hands before I print it. Would you be interested in a giant poster, with art like the above, with all the rules for generating random dungeons?
Tags: oldschool