Since we're within a few pledges of Bonus Goal #2, I should announce what it is! Also I'll announce Bonus Goal #3 ($5000).
Bonus Goal #2: Lots of stickers! I've upgraded bonus goal #2 from the previously announced single measly dwarf. If we hit $4000 (which we should today or tomorrow) everyone who pledged at least $22 will get a page of about a dozen stickers interpreting the five heroes from the Dungeon Master's Guide. Each hero will have a sticker designed by a different artist (or two).
Laura already got back to me with some great interpretations of the elf, and I was so excited that I made a mockup of what the stickers will look like once they're applied to your stately tiger Trapper Keeper.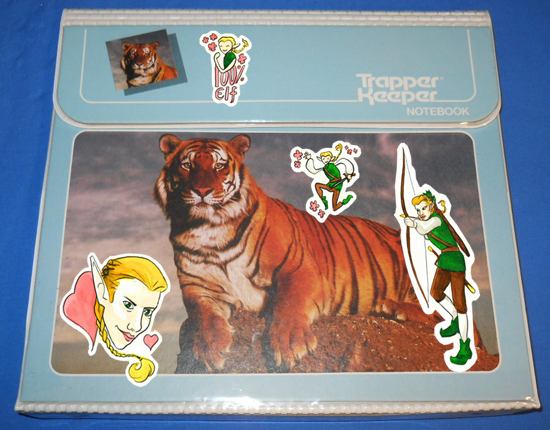 Bonus Goal #3: Paul's DM Notebook!: If we hit $5000, every backer who contributed $22 or more will get a paper and PDF copy of PAUL'S DM NOTEBOOK.
Paul's DM Notebook will contain all-editions settings, rules, and adventures from my game. It will start with a bonus all-editions playable race, the ratling (a favorite in my campaign) and a city setting: Setine, City of Roses. For every extra $1000 we raise, I'll add something to the notebook, on top of any other bonus goal rewards we reach.
Here's what the map of Setine looks like: