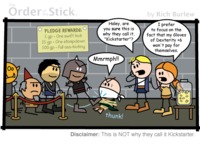 You've probably seen the record-breaking Order of the Stick kickstarter that got the OOTS books republished, and gave author Rich Burlew about 99 years of work fulfilling backer rewards, and raised $1,254,120.
That's such an astonishing number that I think it redrew the target for D&D projects. Future D&D kickstarters will measure their financial success in percentage points of the OOTS total (which they shall call "Burlew points.")
We're getting pretty close to 1% of $1,254,120. So here's a new backer reward: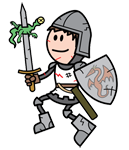 Burlew Point Party: At $12,541, everyone who pledged $22+ gets an original sticker by OOTS author Rich Burlew!
I actually asked Rich if I could just use an existing picture of Roy, but he insisted on doing an original picture for the project based on the 1e DMG characters. Thanks, Rich!