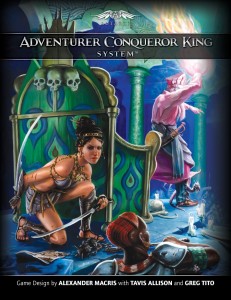 When I worked with Tavis Allison for the Gygax Memorial Fund last year, I got a copy of his Adventurer Conqueror King: it's sort of the missing manual for high-level D&D play. Our kickstarter is coming up on what is, to me, a major milestone: we're almost at the giddily high funding level of the ACKS Player's Companion. This calls for a celebration – and more swag! Tavis says:
"Paul Hughes, I challenge you! If you can surpass the $20,622 funding level achieved by Autarch's Kickstarter for the Adventurer Conqueror King System Player's Companion, I'll use ACKS to create a PDF for every $17+ backer. In it, I'll lay forth the fantasy economics of your dungeon-generating dungeon, from construction cost to upkeep. I'll also create versions of the DMG sample party at the appropriate level to rule a domain containing such a dungeon, and provide details on all their henchmen, hirelings, and military forces (using Autarch's forthcoming Domains at War). This should be useful to everyone because the ACKS framework is a synthesis of economic data from the earliest roots of the game, and designing mundane goods for Mordenkainen's Magical Emporium convinced me that the fundamentals haven't changed significantly from OD&D to 4E. Plus, it'll create a new way to use the poster in play – raising an army to take over the land surrounding the dungeon-generating dungeon!"
Sounds great to me! I especially look forward to high-level versions of the DMG characters. Maybe at name level, the sorceress and the halfling can afford shoes.