The Brooch of Shielding (which absorbs 101 HP of Magic Missile attacks) was useful in early D&D editions, when evil wizards filled so many slots in the wandering monster tables and when there were so few low-level attack spells. By third edition, with the proliferation of monsters and spells, it was significantly less so. I bet that during the run of third edition, nobody's Brooch of Shielding ever took 101 points of Magic Missile damage.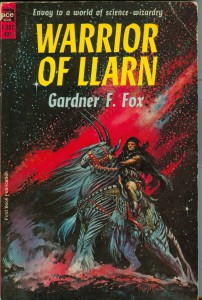 It's not necessary to posit a specific literary model for the Brooch of Shielding: it's not too hard to come up with an item that protects against missile attacks. Still, here's a plausible literary source: a passage from Gardner F. Fox's 1964 Warrior of Llarn, written by an author Gary Gygax admired (and who is part of the Appendix N pantheon) at a time when Gygax was reading practically all the sci-fi and fantasy that came out.
The Llarnians carry ornaments on them – the medallion on a chain was such an ornament – that counteract the deadly efficiency of the red needle beams. These roundels perform somewhat the same service to their wearers as do lightning rods on earth. Their peculiar metal absorbs the awesome power of the red rays as soon as they come within a foot of anyone wearing them.
I take the Brooch of Shielding's 101-HP maximum to be a game balance thing; and I'm not sure what to make of the strange specificity of its description: "The Brooch of Shielding appears to be a piece of silver or gold jewelry, usually (90%) without gems inset." I guess sometimes you just like to roll a d100.