As I mentioned, I recently came into a windfall: 45 pounds of D&D stuff that comprise some kid's D&D collection from the 80s. From the Dragon magazines, it looks like he subscribed from about '83 to '89, and he stopped playing around the time Second Edition came out.
I was excited to get the books and magazines, but the first thing I opened was the spiral notebook, on the cover of which were scratched the letters "D+D".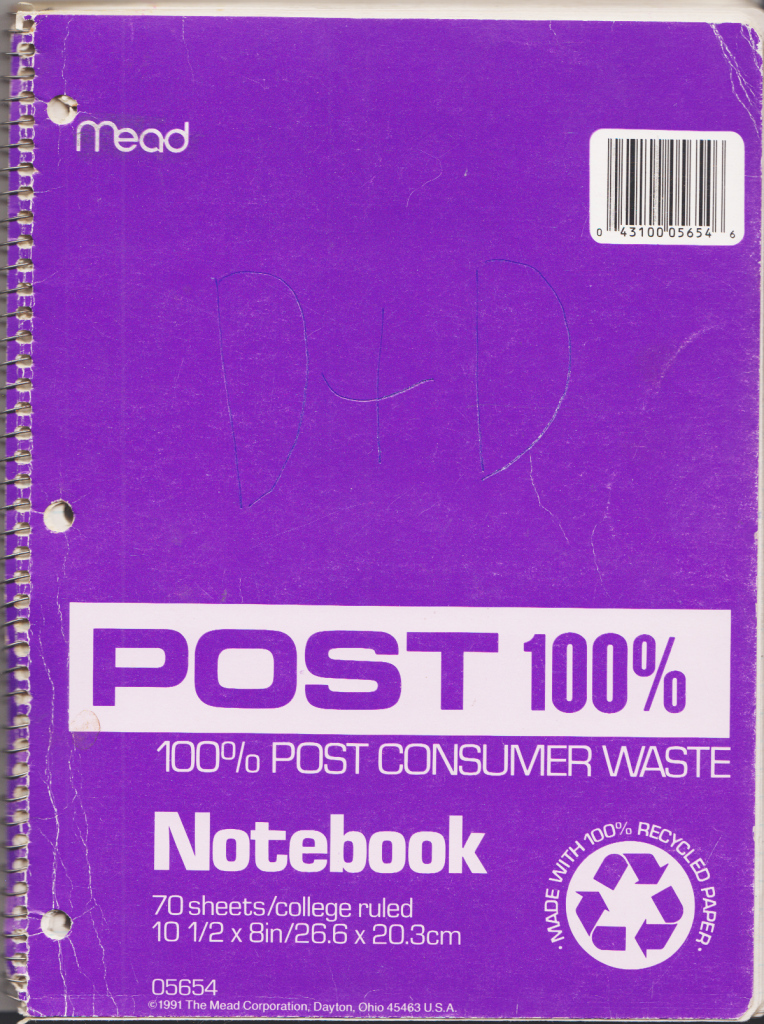 It's a peculiar, and brief, notebook. I might need a little help prizing out its secrets.
It starts very strong, with an awesome map of a land called ARCAUEN: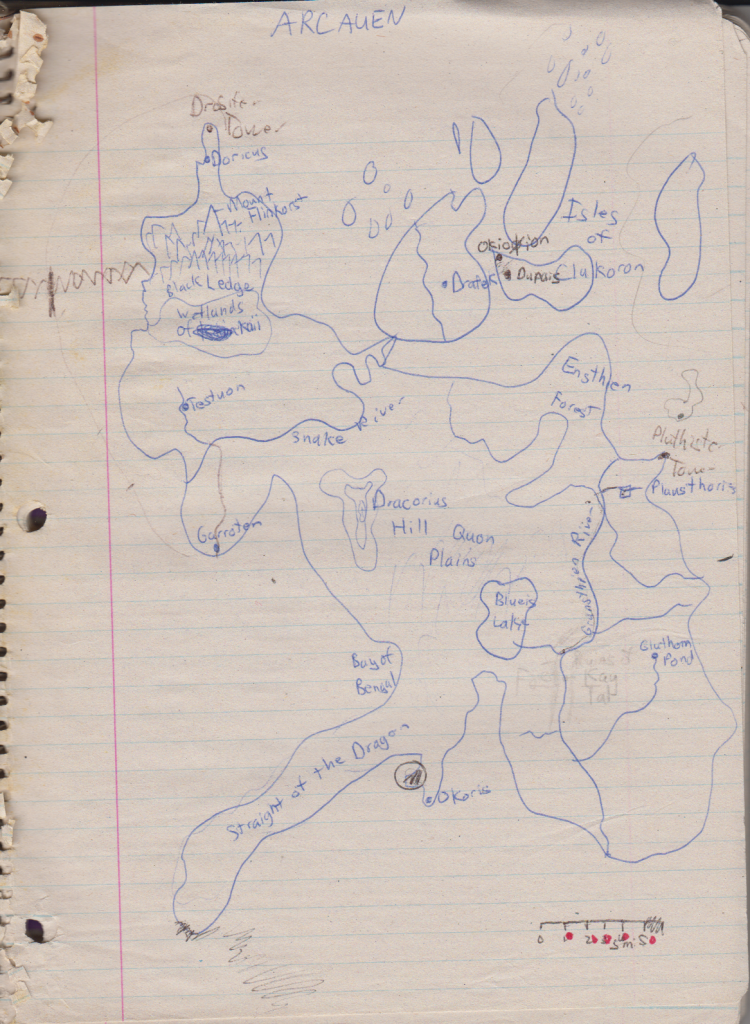 There are so many kickass names here, including, but not limited to, Drosifer Tower… Doricus… Isles of Clakoron… Drafek…Okioxion… Mount Flinkorst… Garroten… Dracorius Hill… Blueis Lake… Bay of Bengal… Straight of the Dragon. It's like an episode of He-Man, in the best possible way. My favorites have to be Bay of Bengal – yeah, it is an awesome name for a bay, even if it is real! and Straight of the Dragon. Straight of the Dragon isn't even a strait – it's a peninsula. Spotmarkedx suggested that the world of Arcauen is two dimensions, which you can traverse with the right spell: an island, in which the Straight is a peninsula, and a landlocked sea, in which the Straight is – well, still not a strait, actually. Maybe some sort of bay. Anyway, a good idea.
Other locations of note: Black Ledge, which protects Drosifer Tower, the home of (I suspect) the greatest evildoer of the campaign, and Plathister Tower, where good wizards weave great magics using the poetry of Sylvia Plath. That's just a guess.
The other interesting thing about this map is the scale: it's not a continent, as I first thought, but a pretty small island. It's maybe 30 miles across – approximately the same size as Mauritius. There are a lot of great locations packed together pretty tightly here.
On the next page, we have an Encounter Table!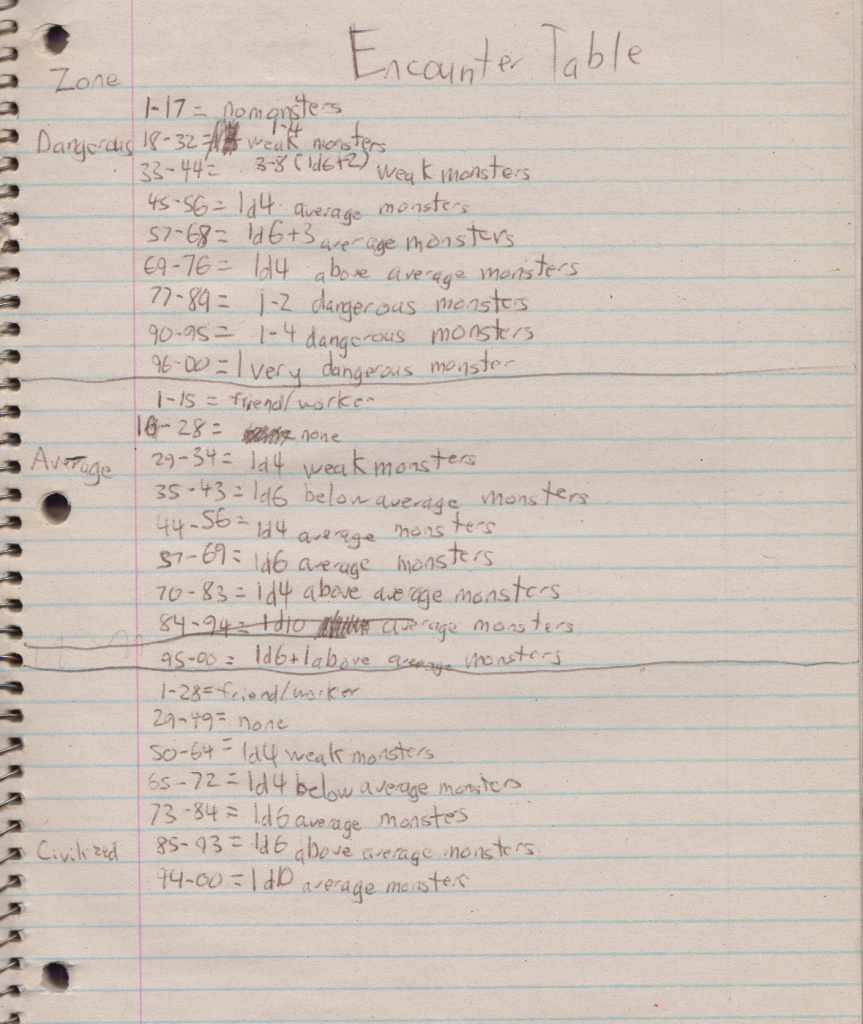 It's a generalized encounter table, suitable for any location. It's quite well constructed: you can run encounters on the fly in Dangerous, Average, and Civilized zones. The monsters aren't filled it – you can do that when you run it. The percentages and the dice expressions look very reasonable. Either this is some published chart I've never read, from Second Edition or something, or this kid did a great job here.
Next page!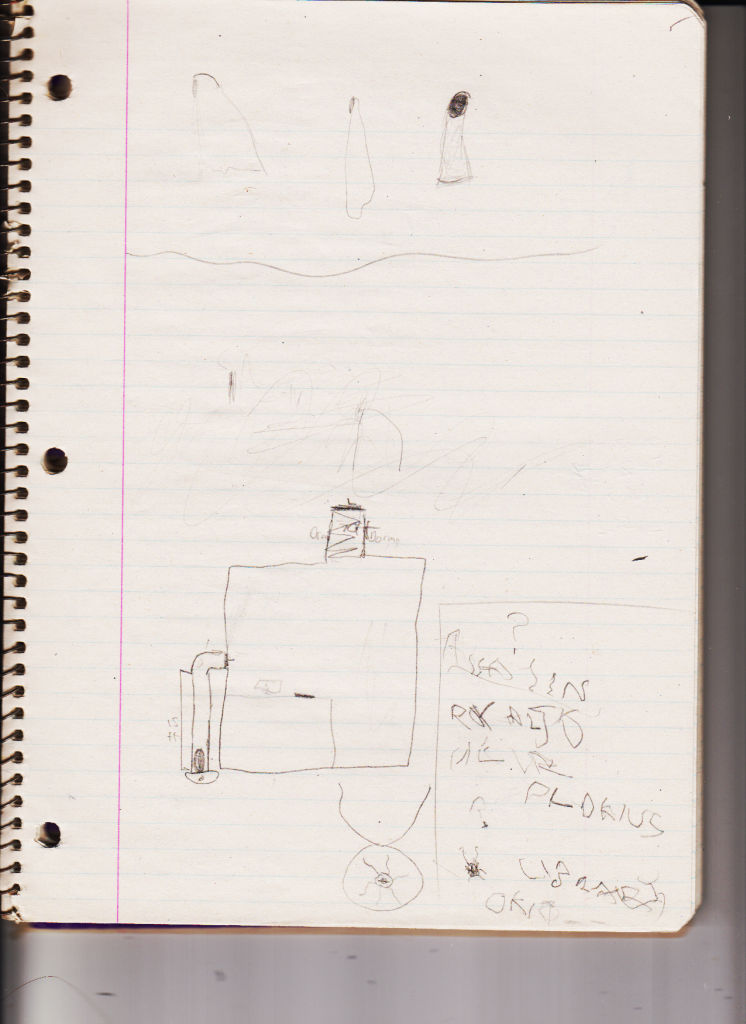 This is where the notebook gets confusing. What is that square thing on the bottom? A map? It does appear to say "15 ft" next to the tube thing.
In the corner, it looks like the player was writing with his left hand, or eyes closed, or something. "Assassin"? "Plokius"? And is that the eye of Sauron on a necklace?
Next page: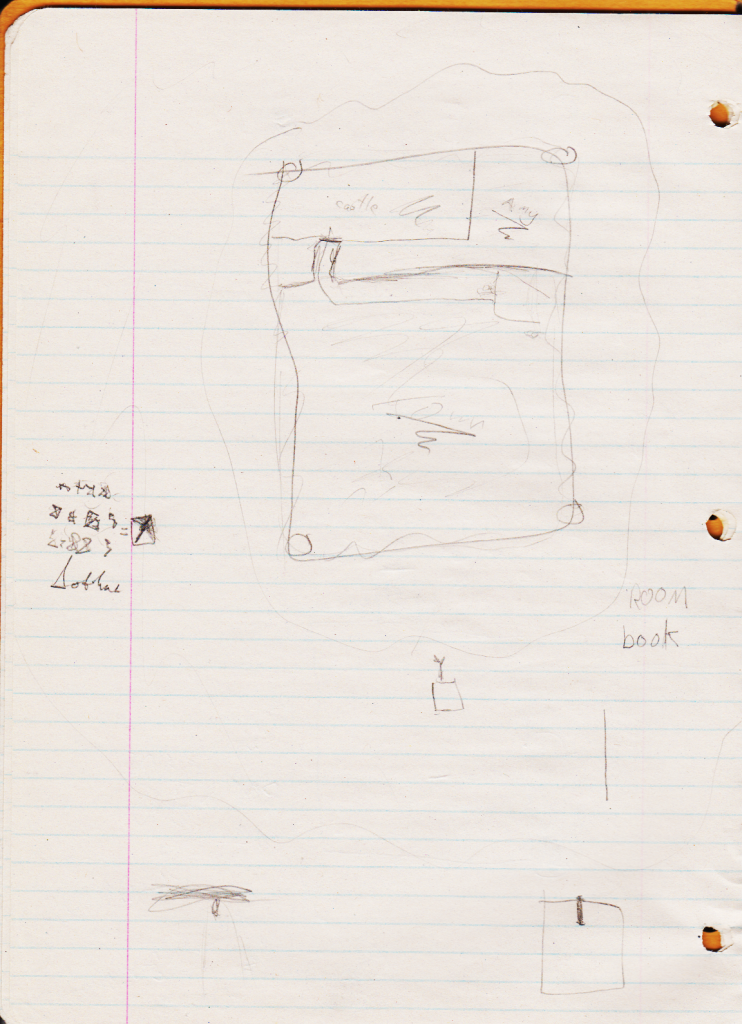 The thing at the top is a walled town: it's divided into "town", "castle", and "army", and it has little towers at the corners. This page also has some bizarre writing: a cipher or doodle language? and the enigmatic message "ROOM book".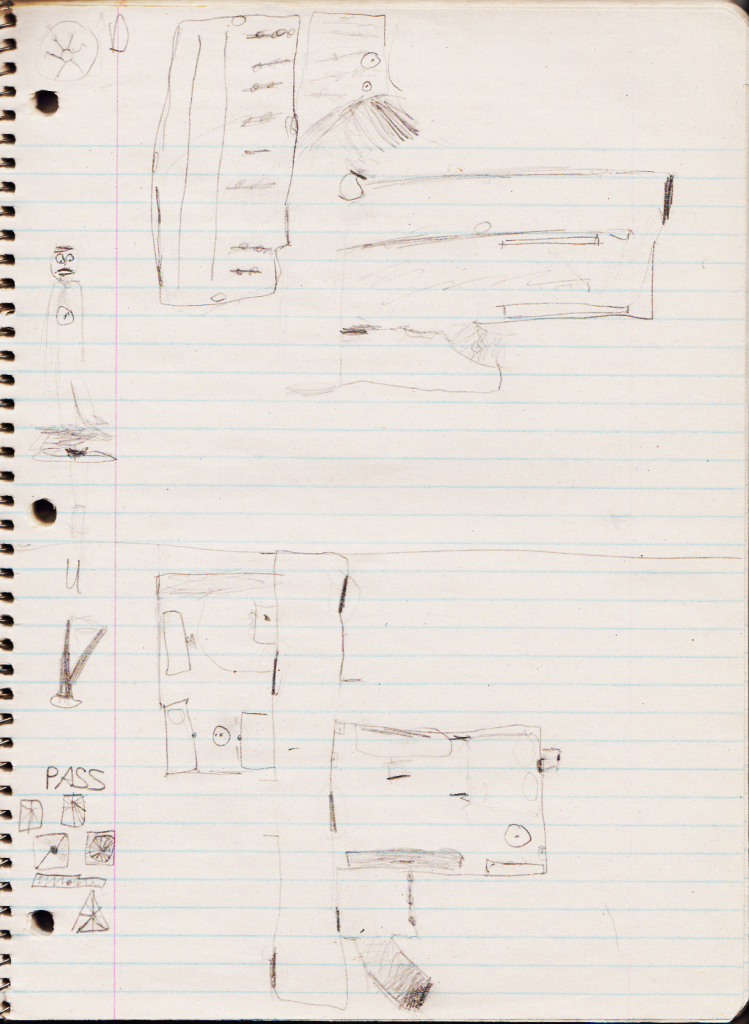 I can make head nor tail of nearly nothing on this page, although I wouldn't be surprised if the thing at the bottom were barracks of some kind. I like the picture of the dashing, possibly levitating, mustachioed fellow. I believe he is wearing a clock around his neck like Flavor Flav. Or possibly it is the Eye of Sauron. Anyway, the guy is proud of it.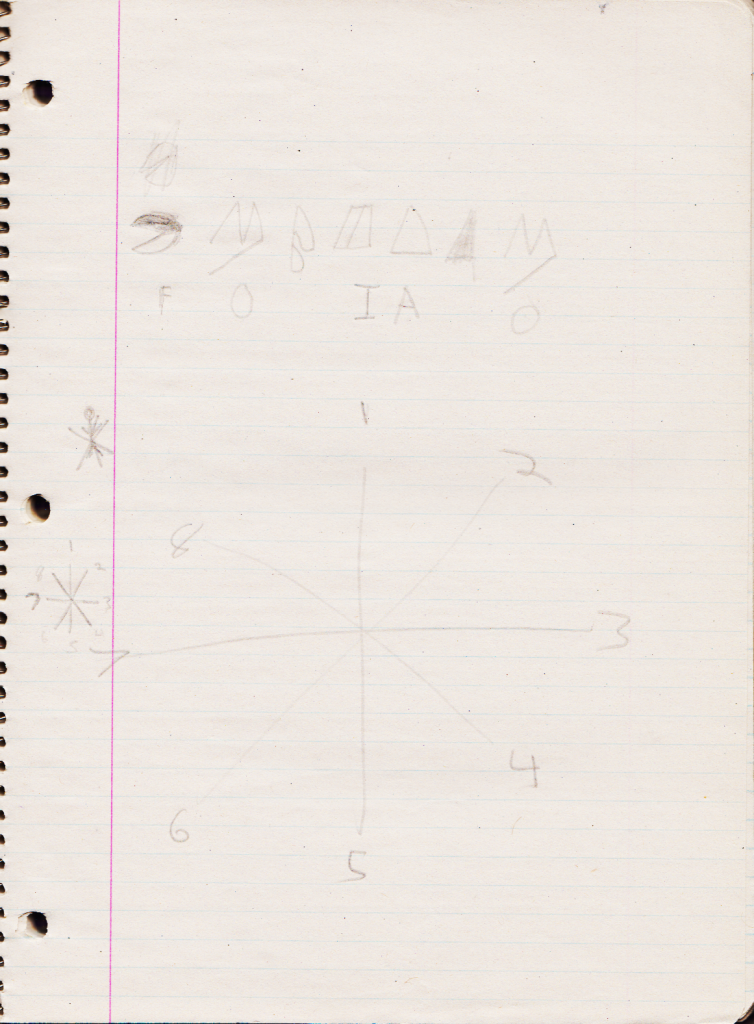 On the next page, the writer is trying to solve a cryptogram. I guess he's a player, not the DM. Can we give him any help? FO_IA_O
The rest of the page features a stick figure with 9 arms and legs, and a directional system for use with a d8, maybe for splash damage or wind direction.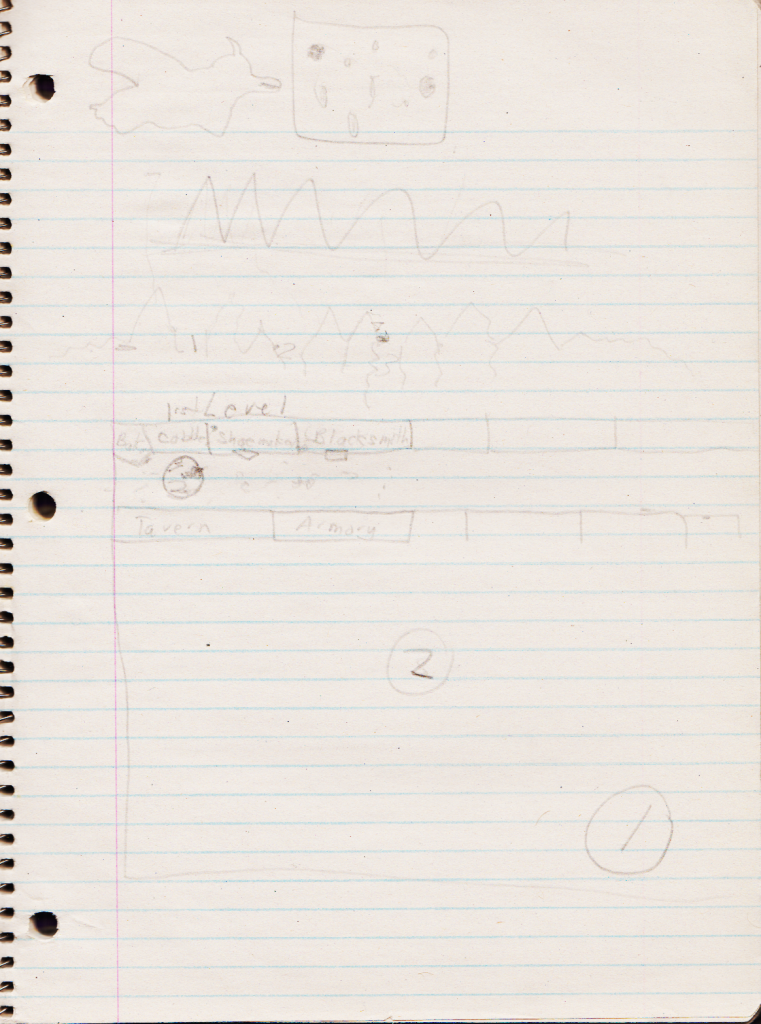 On the last page of notes, we've got (top left) a silhouette of a unicorn duck, some wavy lines and numbers I don't understand, and the "first level" of something. Possibly a medieval mall.
You see what I'm saying, right guys? Confusing! Any ideas about what any of this means?
As a bonus, here are some character sheets: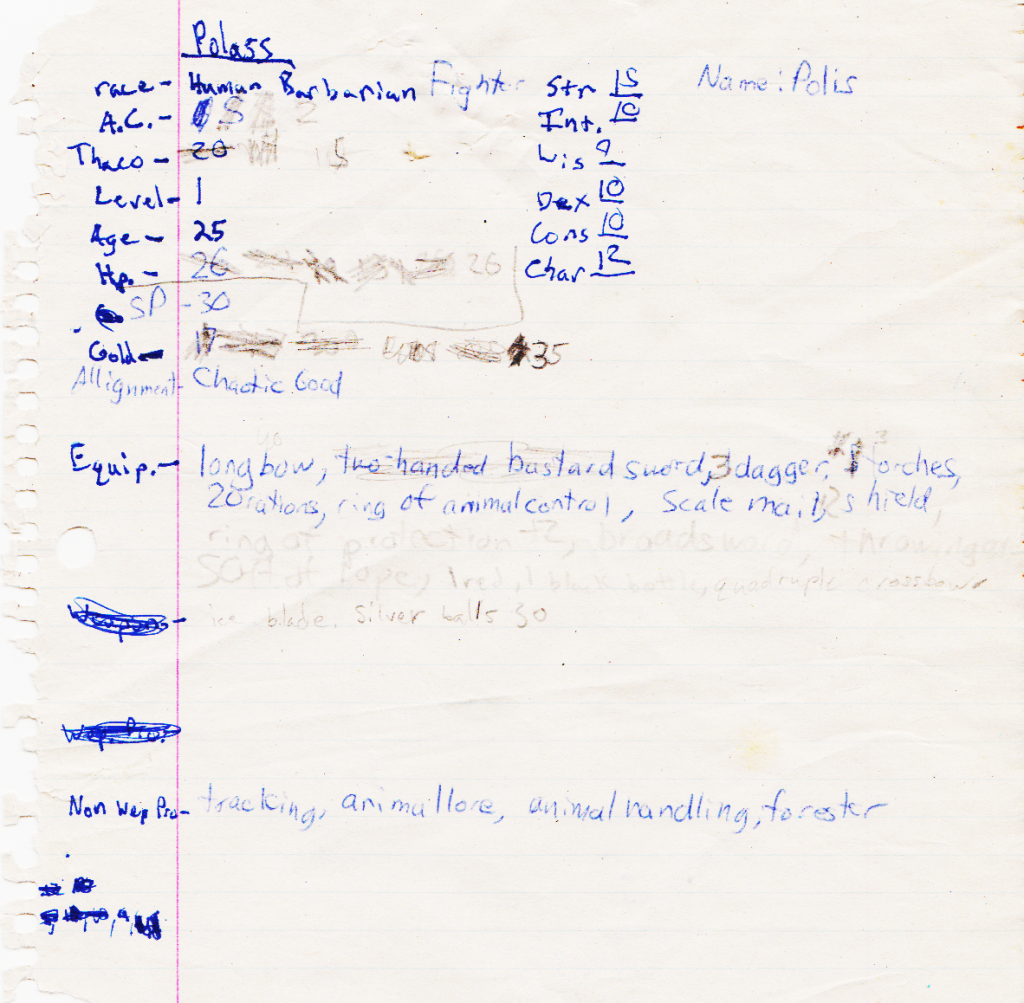 Polass is cool because he has two names. I bet the other players had a field day with the fact that he had "ass" in his name, so the player, disgusted, wrote "Name: Polis" on the right side of the character sheet. This human barbarian ("fighter" written with a different pen) has plausible, rolled-looking stats. He also has THAC0 and non-weapon proficiencies, which narrows him down in time a little bit. 26 HP seems high for a first level character.
Polass's good gear, earned in adventuring, is written in pencil. He has a +2 Ring of Protection (boss!) and some mysterious stuff: "1 red, 1 black bottle", "quadruple crossbow", "ice blade", "silver balls 30". I like it all, and will use it as treasure in the next game I run, especially the quadruple crossbow.
Next, Dicorace! This player is pretty good at coming up with cool names. Cool names that end with something that sounds like "ass", and things that begin with "dick" or "pole", but who knows how intentional that was.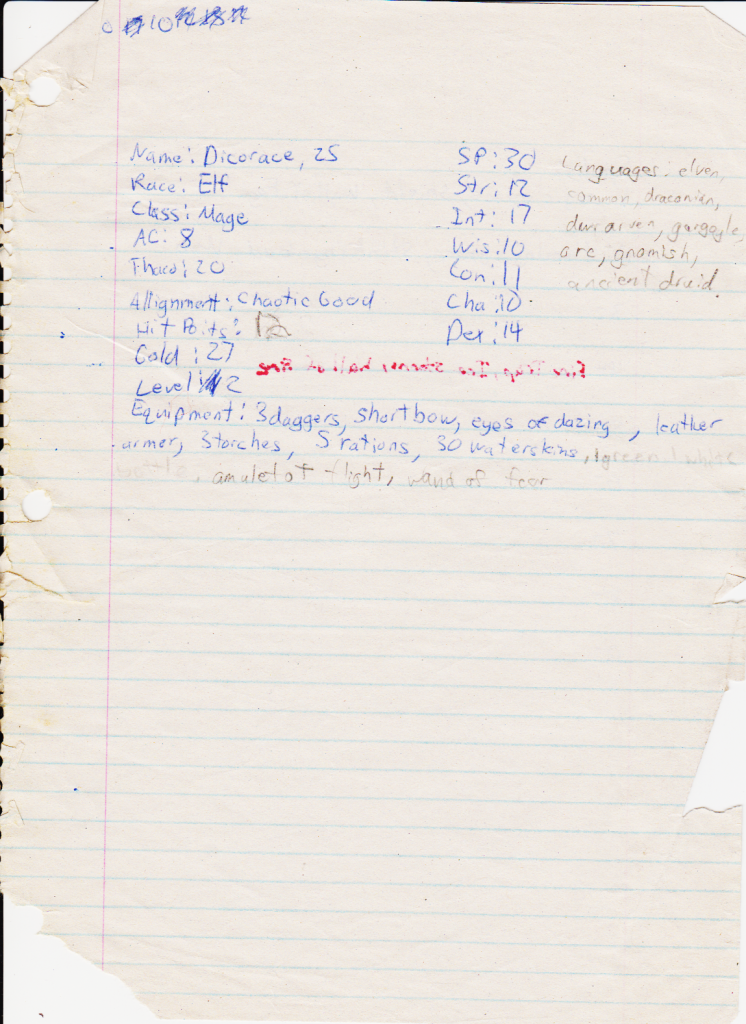 Dicorace is an elven mage with similarly high HP (12 at level 2) and more awesome equipment written in pencil: "1 green 1 white bottle", "eyes of dazing", "amulet of flight", "wand of fear". He also has 30 SP, which I just can't convince myself is silver pieces. Spell Points? He has 30. But Polass the barbarian fighter had 30 SP too. Maybe SP is some second edition stat I've forgotten.
Finally, Dicorace's spellbook: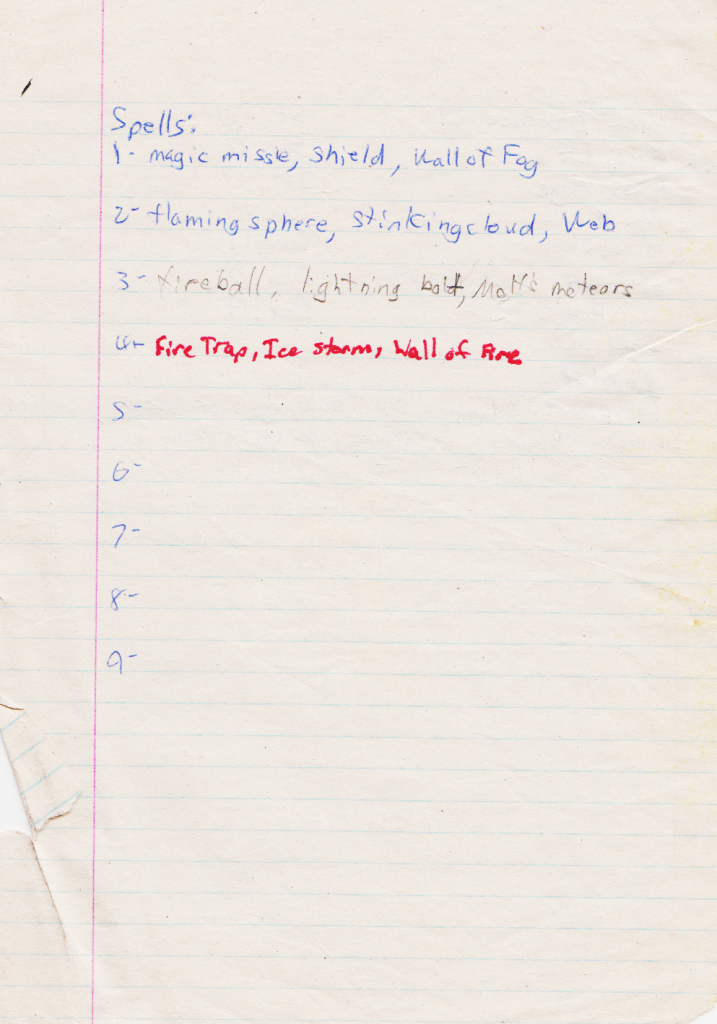 Pretty good – fourth level spells for a second-level mage.
All in all, it looks like a pretty fun game. I'd join. Maybe I'd learn why everyone ended up with all these colored bottles!
Update: One last find: I flipped open Unearthed Arcana and found this beginning of what could well have been the greatest novel of the 20th century, had it been completed: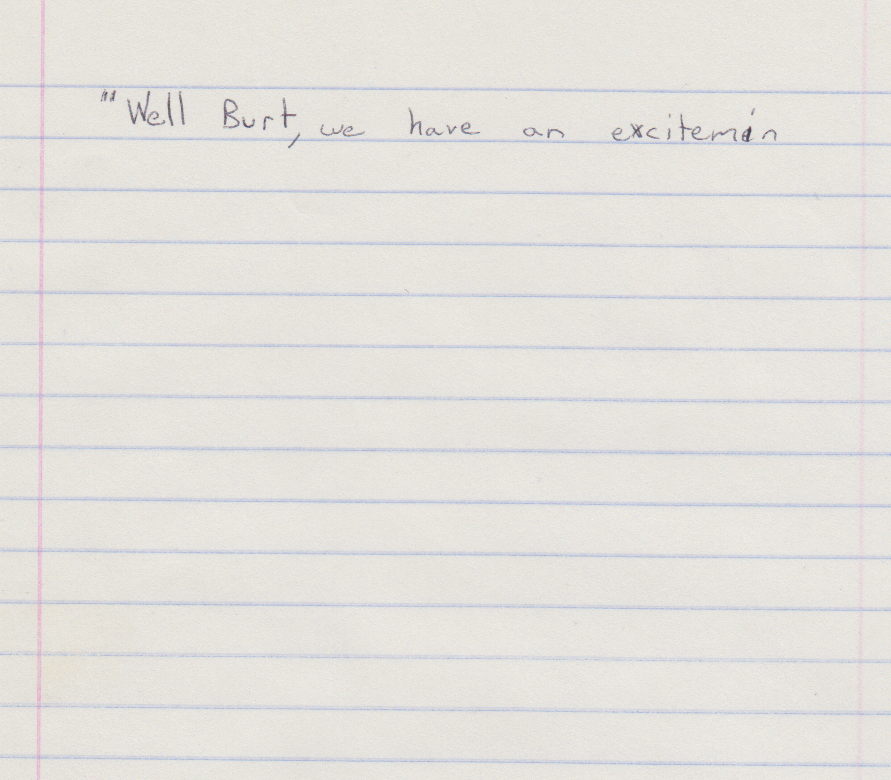 Tags: oldschool