July 4th is a time for Americans to celebrate the Founding Fathers, and what better way than with a discussion of the DROW?
Visually, what's the most interesting thing about drow? Is it the ebony skin, which lures cosplayers into racially complicated situations? No! It is the WHITE HAIR.
Costume-wise, perfectly white hair usually implies powdered wigs, which imply, in turn, the 18th century: the founding fathers, Mozart, Marie Antoinette. What if we used the 18th century aesthetic to inform our concept of the drow?
While the United States' national story has the Founding Fathers as unequivocal heroes, most everyone else in a powdered wig is creepy in some way: bad old King George! Debauched Mozart! Sinister Salieri! that creepy guy from Dangerous Liaisons!
Drow actually make a fine addition to this creepy collection. Therefore, drow should probably wear silk jackets and high heeled boots. They should carry sword sticks (that crumble if exposed to sunlight). Their beauties – men and women both – have white beauty marks. The drow attend masques and balls in which they exchange innuendo and assassinate their rivals. (Drow dances, like those of Melnibone, are to the well-tempered screams of tortured slaves.) Drow attitude to non-drow is a heightened parody of the pitiless indifference of French nobility for the lower orders.
Furthermore, drow worship Lolth, the Queen of the Demonweb Pits. Here's a statue of her from Pax East 2012.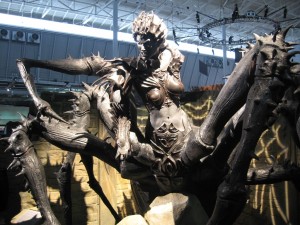 Throw a dress on her, and her silhouette reminds me of another queen, also famous for her indifference to the lower orders: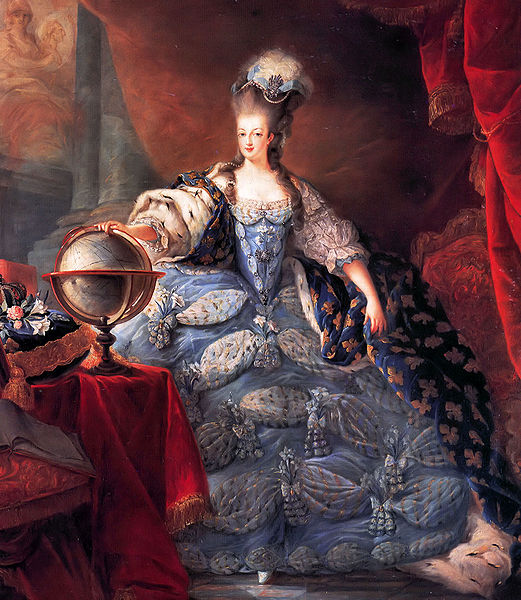 How to use drow in your campaign:
Make them charming. Witty, even. Have them take snuff. Play harpsichord music as background music when they're around. They can be just as diabolical, unfeeling, and sinister as ever – more so, even.