The 1e Fiend Folio spent years in the doghouse. As a kid, I wrote off the Folio as a collection of gimmick and useless monsters – including the adherer, flail snail, carbuncle, and flumph – topped off with an unnecessarily large helping of badass skeletons.
Lately, there's been a bit of a reclamation project, with various game designers and bloggers returning the the Folio for inspiration. I'll do the same today. I'm leaving the flumph for someone else, though; as part of the May of the Dead carnival, I'll be rating, in alphabetical order, the Fiend Folio's many, many badass skeletons.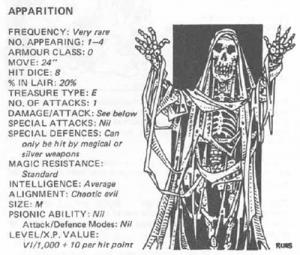 Apparition
Non-Badass Appearance: As badass skeletons go, the Apparition is pretty conservative. He's only half-heartedly swathed in mummy bindings, and no sinister fires burn in his eyesockets. Only the Russ Nicholson art saves him from mediocrity.
Badass Mechanics: The Apparition has 8 HD and 0 AC, and, like many of the Fiend Folio critters, it has unique insta-death mechanics. If you roll over your Intelligence AND Constitution on 3d6, you "suffer a massive heart seizure and die instantly." I like this monster because if you're sufficiently smart, you're totally immune to its powers. Stay in school, kids!
Badass Rating: 1 Skeletor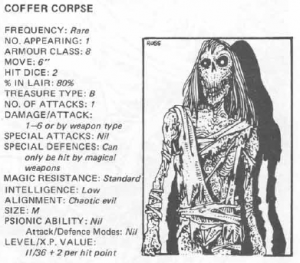 Coffer Corpse
At 2 HD, the Coffer Corpse is one of the few low-level badass skeletons.
Badass Description: The Coffer Corpse is "found in stranded funeral barges", so keep that in mind when you are planning an adventure on a stranded funeral barge.
Badass Mechanics: The Coffer Corpse doesn't cause you to save or die. He just grabs you by the throat and, like Bryan Adams, never lets go (until you kill him, which shouldn't take too long as he has an average of 9 HP.)*
Badass glowing eyes: Check.
Badass Rating: 3 Skeletors
*I mean until you kill the coffer corpse. But Bryan Adams also has 9 HP.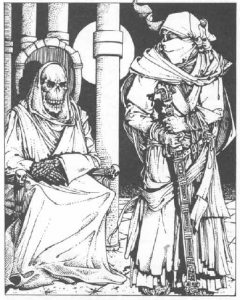 Crypt Thing
The Crypt Thing just sits in his crypt all day (% in lair: 100%) and uses his special mechanics to puzzle wayward adventurers.
Badass Mechanics: The Crypt Thing teleports each saving-throw-failing party member 100-1000 feet in a random direction, and lies to the rest of the party, claiming that the teleported creatures have been disintegrated.
Badass Motivation: Although they are neutral, "their aim appears to be solely that of obtaining pleasure by creating confusion and dissent." I guess it's the kind of neutral that is slightly chaotic and slightly evil. For a skeleton with glowing eyes, though, it's practically Lawful Good.
Badass Appearance: This guy looks a lot like Skeletor, so full marks for that.
Badass Rating: 3 Skeletors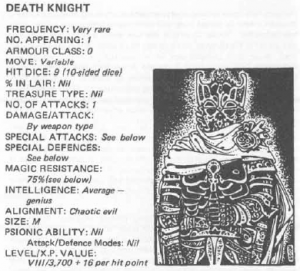 Death Knight
Badass Story: The Death Knight is a lich created by Demogorgon from a fallen human paladin. Every word of this sentence drips with Metal!
Badass Hit Points: The Death Knight has 9 HD, but he's so awesome that they're TEN SIDED DICE. I guess because they're from paladin class levels.
Badass Stats: The Death Knight has high stats even by paladin standard, which is saying a lot. He has 18/00 Strength and his Intelligence is Average-Genius. He also speaks 3-6 bonus languages!
Badass Mechanics: The Death Knight has more kickass powers than you can shake a femur at. Highlights include 75% magic resistance that, 11% of the time, reflects spells at their caster; power word kill; a 20-dice fireball; and a gate spell.
Badass Steed: The Death Knight rides a nightmare. That's the gold standard for villainy. If you're a bad guy and you have to ride a regular horse, you might as well hang it up.
Badass Rating: 5 Skeletors
Eye of Fear and Flame
Badass Life Goal: "It constantly stalks the underworld seeking lawful or lawful/neutral parties or individuals. It will command an individual, or member of a party, to perform evil deeds."
Badass Mechanics: One eye fires a 12-die fireball every three rounds. The other acts like a fear wand every round. That's a lot of magic that it's slinging around. That's what you get if you don't perform evil deeds.
Badass Glowing Eyes: Yes, and they are gems worth 1,000-2,000 GP each.
Badass Rating: 3 Skeletors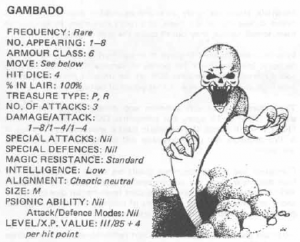 Gambado
Non-badass Description: "Supported on its thin (but very strong) neck is a skull – usually of an animal but sometimes of primitive man." A primitive man? Like a soccer hooligan? How can you tell that from the skull? Or is it, like, a hominid? Anyway, the gambado's body is like a cylindrical spring. It hops.
The gambado better be, like, a South American legend or something, otherwise this is pretty lame. (consults dictionary dot com) No, "Gambado" is just an old fashioned word for a hop. The gambado hides in a thin little hole and gambadoes out at people. STUPID.
Badass rating: 0 Skeletors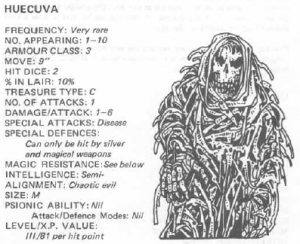 Huecuva
The Huecuva is a 2-HD monster, "similar in appearance to a robed skeleton". It has two gimmicks: it is able to polymorph self three times a day, and its touch infects the victim with acute cardiovascular-renal disease. I kid you not. Mechanics based on the Diseases chart in the DMG!
This one IS based on a South American legend. A point for that.
No points for the mummy wrappings. It looks like the Huecuva saw the illustration for the Apparition and thought to itself, "I can get more wrappings than that guy." There is such a thing as TOO many wrappings, Huecuva. You look like a kitten that got into the yarn: there's a thing called self-control. Don't give me that look.
Badass Rating: 1 Skeletor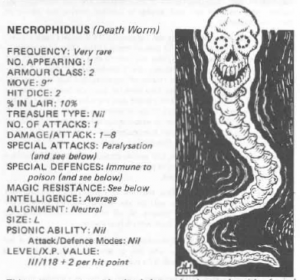 Necrophidius
Badass Name: Necrophidius. Great name. "Drown in your tears of terror, for I am Necrophidius the Malificent!" "Ladies and gentlemen, the next president of the United States: Necrophidius!" "Necrophidius, bring the car around front." Necrophidius.
Badass Mechanics: The necrophidius is another hopping snake skull-head like the Gambado, but at least it can execute the Dance of Death (treat as hypnotism).
Badass Construction: You can make your own necrophidius! The ingredients include "the complete articulated skeleton of a giant snake (poisonous or constrictor) and the skull of a cold-blooded murderer killed in the last 24 hours." The good thing about this is, after you kill the murderer in order to make your snake, YOU are a cold-blooded murderer, so your skull can be used to make a second necrophidius!
Badass Glowing Eyes: Yup.
Badass Rating: 4 Skeletors
Revenant
Badass Backstory: "Under exceptional circumstances, those who have died a violent death may return from beyond the grave to wreak vengeance on their killer – as a revenant." Revenants do all sorts of creepy stuff to their killer: "lock its claw-like hands around its victim's throat," "stare into his killer's eyes" causing the killer to be "paralysed with terror", and track the killer "wherever he may be."
Badass Indestructibility "Weapons – normal and magical alike – do not affect the creature." If it is somehow dismembered anyway, its limbs continue to act. It regenerates 3 HP per round. It is immune to acid. I see why the description talks about the revenant tracking its victim – this is a guy you want to run away from.
Badass Entry Requirements: In order to become a revenant, you need Wis or Int greater than 16, Con 18, and total characteristics totaling to 90 or more (wow! 15 average! Although it's not quite as difficult if you use the Comeliness stat.) Even so, you only have a 5% chance of coming back. Why are we getting all this info about how hard it is to become a revenant? It seems to imply that PCs will want to become revenants.
Badass Glowing Eyes: "Its eyes – sunken in the face – are at times dull and heavy-lidded but, particularly when nearing its intended victim, they will blaze up with unnatural intensity."
Badass Rating: 4 Skeletors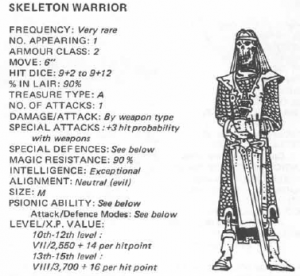 Skeleton Warrior
As Death Knights are the lich versions of paladins, skeleton warriors are lich versions of high-level fighters. What's up with thieves? No one wants to make lich versions of thieves.
Badass Jewelry: A skeleton warrior's soul is trapped in a golden circlet. If you put on the circlet, you may control the skeleton. While you're not in control, it tries to kill you. There's lots of text about how exactly this works.
Badass Intelligence: Skeleton Warriors have Exceptional intelligence, and are neutral (tending towards evil). If you wore the circlet, could you force the skeleton warrior to work as a college professor, even if you didn't have a high enough intelligence to do it yourself? I bet Skeleton Warriors are tough graders and they love to fail you. "This will not be sufficient, Mr. Necrophidius. I said five pages, and this is four and a half."
Badass Rating: 2 Skeletors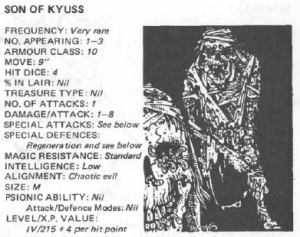 Son of Kyuss
Badass Dad: Kyuss was an evil high priest who invented a new form of undead. Living the dream, Kyuss.
Badass Mechanics: Sons of Kyuss radiate cause fear, regenerate like trolls, and their mighty punches inflict leprosy. More diseases from page 12 of the DMG!
Badass Gross Worms: Sons of Kyuss have "fat green worms" crawling out of all of their skull orifices. "One worm per melee round will jump from a son's head to an adjacent character", potentially turning the character into a son of Kyuss in 1-4 melee rounds.
Badass Rating: 3 Skeletors
Eleven skeleton monsters is probably too much for a monster manual supplement! But, as my wife notes, it is almost enough for a calendar. How awesome would that be? I wonder if Russ Nicholson has all of the original art?