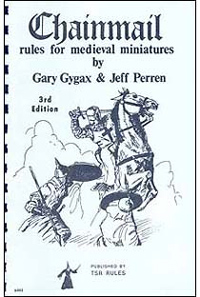 I guess Gary Gygax must have had a bunch of spare dowels in his house, because there are some great dowel-based rules in the Chainmail booklet.
The first rule is for determining the efficacy of cannon fire.
The length of a firing dowel will correspond to the maximum range of the cannon which it represents. Each is colored alternately white and black to represent the flight and bounces of a cannon ball. BEFORE PLACING THE DOWEL THE PLAYER FIRING MUST STATE WHETHER HE IS FIRING SHORT (white) OR LONG (black) AT THE TARGET. All figures that are touched by the named color on the dowell are eliminated.
This is a beautiful, elegant rule. I love the way it simulates the random bouncing of high- and low-ranged cannonballs, both on the same dowel, each using the other's negative space. It's like the yin and yang of shooting pretend people.
I Photoshopped this dowel image based on the measurements in the book for a cannon with a range of 36″.
Dowel Rule 2 is in the Fantasy Supplement:
If any number of figures are airborne at one time, it becomes difficult to maintain a side record of their height and course. It is recommended that a number of 36″ dowels be set firmly into 2″ x 4″ bases, and flying figures be secured at the proper height in the dowel by use of a rubber band.
Recording flying creatures' positions is a bit of a problem in D&D. We've used stacks of dice, notes on scraps of paper, and, most frequently, ignoring positioning altogether. I'm not going to rush out and buy dowels, but I recognize that perhaps I SHOULD.
Tags: oldschool