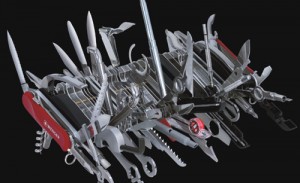 As a DM, I want to throw in cool magic weapons that people can actually use. On the other hand, I don't want a formalized 4e-style wishlist. The big selection of D&D weapons actually makes my life difficult. If I want to include a magic sword, do I need to pay attention to who in the party uses a short sword, longsword, bastard sword, and greatsword?
As I was designing an adventure recently, I thought, "maybe I'll describe this magic sword as an extra-long longsword, so it can be used as either a longsword or a greatsword, player's choice." (beat) "Hey, that's what a bastard sword is supposed to be!"
The 1e bastard sword is kind of like that. It comes with a note: "Treat as a long sword if used one-handed." Used two-handed, though, it's its own thing. In later editions, the bastard sword is all over the map: for instance, in 3e, it has one set of stats one-handed or two-handed, but it requires a feat to use it one-handed.
As a DM, here's how I wish the bastard sword worked: "The wielder can treat it either like a longsword or greatsword."
What if this combination-weapon approach were expanded?
For one thing, the fifty polearms in D&D are basically different combinations and permutations of spears, axes, picks, hammers, and hooks. The very existence of the glaive, the glaive-guisarme, and the guisarme imply that there's a use for a "combination-weapon" category.
Here are some weapons that could be turned into combination things:
Battleaxe: A battleaxe can be used either as a hand axe or a greataxe.
Bastard sword: A bastard sword can be used as either a longsword or a greatsword.
Glaive: A glaive can be used as either a greatsword or a spear.
Halberd: A halberd can be used as either a spear, battleaxe, or hook.
Morning Star: A morning star can be used either as a flail or a mace.
Rapier: A rapier can be used either as a shortsword or as a longsword.
Spiked Chain: A spiked chain can be used either as a whip or as bondage gear.
By reducing the number of unique weapons, you're taking away the need to come up with a million slightly-different dice expressions to justify each weapon. You're also replacing various solutions for "weapon groups", where special rules are needed to give people proficiency with a large number of similar weapons. With my rule, a guy with longsword specialization can always use whatever rapier, longsword, or bastard sword he picks up (although only as a longsword).
Side note: You know what I've under-appreciated about 4e? How few weapons there are. 33 weapons in the 4e Players Handbook, as opposed to 50 in the 1e PHB, 63 in the 2e PHB, and 72 in the 3e PHB.