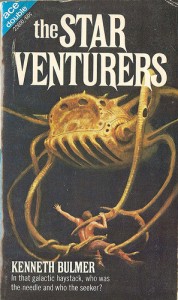 Last week I mentioned a bizarre trapped chest from a Sax Rohmer novel. Here's another weird chest, from The Star Venturers by pulp-sci-fi author Kenneth Bulmer:
A door slid aside in the far wall. Through this opening walked two young girls, each clad in a bikini and boots, each carrying the ornate silver hands of an ebony box swung between them, the hands a left and a right, making a pair.
OK, the bikini-and-boots thing may be a little over the top, but the chest is cool. Its two hand-handles might be decorative, might be a trap, but also might be part of a puzzle to open some hidden compartment.
Tags: everybook