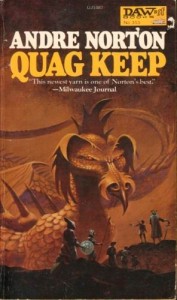 Quag Keep is a bizarre book. It's the first D&D novel (it was published in 1978, so it was written before Advanced Dungeons and Dragons came out). It's by Andre Norton, an Appendix N author and a well-respected fantasy/sci fi writer, above the level of most licensed-setting writers. And yet it's neither a great novel nor a great D&D book.
It seems to be based on a alternate-dimension version of Greyhawk D&D: there are many ideas that are quite interesting, but don't appear anywhere else in D&D canon. Perhaps this can be explained by the book's blurb:
"In 1976, Andre Norton was invited to play a new sort of adventure game, Dungeons & Dragons. Its creator, E Gary Gygax, introduced Norton to his world of Greyhawk. After a session of world building, role playing, and fantasy adventuring, Norton wrote "Quag Keep", a tale of six adventurers from our world who journey to the city of Greyhawk in order to aid a wizard and unlock the secrets of the stronghold of "Quag Keep"."
It makes a lot of sense that Andre wrote this after a session of D&D, not multiple sessions, and presumably without a lot of subsequent input from Gary.
The book is interesting as a piece of D&D history. It's also interesting as a different take on D&D: a way D&D could have gone, had it taken a different branch in the road. Who knows, maybe it has some ideas worth bringing back into D&D canon.
I'll read Quag Keep and look for its idiosyncrasies and see if I can figure out ways to use any of them in a game.
OK, here's the basic premise: a bunch of real-world people get sucked into a game of D&D, where they are railroaded into an adventure via a geas. OK Go!
Boar helm, boar cloak-memories and knowledge Milo did not consciously search for arose. This other was a berserker, and one with skill enough to turn were-boar if he so desired.
1978 was well before the introduction of the Barbarian class, so the berserker here is either a Fighting Man or some unique pre-barbarian class. It seems like the latter, since at high level, the character gains the ability to turn into a were-boar. It's an interesting idea for a class. I actually seem to remember reading something similar to this in an early piece of Dragon Magazine fiction, so maybe there was a fan-made Berserker class floating around somewhere.
Nor was he surprised that the stranger should have the pseudo-dragon as a traveling companion or pet, whichever their relationship might be. For the weres, like the elves and some others, could communicate with animals at will.
More details about the Berserker class! And also, incidentally, details about the elven race that you won't find in the PHB: they can speak Animal.
This makes me think that it might be kind of cool to add a few languages to the usual D&D collection of Common, Goblin, Lawful Good, etc: maybe 5 or so animal language (Wolfish, spoken by mammal predators; Deer, spoken by mammal herbivores; Avian, spoken by birds; Piscian, fish; etc.) Let them be taken as bonus languages just like any other language. Maybe they would be restricted to "weres, elves and some others."
The eternal war between Law and Chaos flared often in Greyhawk. It was in a manner of speaking a "free city"-since it had no one overlord to hold it firmly to his will. For that reason it had become a city of masterless men, a point from which many expeditions, privately conceived and planned for the despoiling of ancient treasures, would set out, having recruited the members from just such masterless men as Milo himself, or perhaps the berserker only an arm's length away. But if those on the side of Law recruited here, so did the followers of Chaos. There were neutrals also, willing to join with either side for the sake of payment. But they were never to be wholly depended upon by any man who had intelligence, for they might betray one at the flip of a coin or the change of the wind itself.
…
As a swordsman Milo was vowed to Law. The berserker had more choice in such matters. But this place, under its odors of fresh and stale food, stank to Milo of Chaos.
As D&D has gone on, the importance of the battle between Law and Chaos has gradually diminished. in 1978, it was still a big thing. But the importance of the "eternal war" in Quag Keep is maybe even more important than it is in the OD&D rules. It's explicitly a game-world concept, like race, not a meta-game concept like class or hit points. Furthermore, it's a palpable thing: Milo can smell it.
Speaking of in-game concepts: as a "swordsman" (an OD&D level title for Fighting Men, right?) Milo is "sworn to Law." It's hard to say exactly what this means in QD&D (Quag Keep D&D), but it might mean that a) all Fighting Men are lawful and b) OD&D level titles aren't metagame descriptors: they are the names of in-world military orders or ranks.
Berserkers, apparently, don't have to be lawful: more evidence that they're a separate class from Fighting Men.
"Deav Dyne, who puts his faith in the gods men make for themselves." There was exasperation in the wizard's voice as he spoke the name of the next. By his robe of gray, faced with white, Deav Dyne was a follower of Landron-of-the-Inner-Light and of the third rank.
Perhaps the most interest thing about Quag Keep is that nearly everything that I think of as a game-only concept turns out to be explicitly known by the characters in the novel. Deav Dyne is a third level (or rank) cleric. Furthermore, he wears a color-coded robe that shows that he is a third level cleric. When he advances to fourth level, he'll get a new robe.
This makes it more plausible that Milo's title of "swordsman" is also an identification of his character level. (Furthermore, later in the novel, someone says that Milo is "a swordsman, a rank that marks you as a seasoned fighting man.")
The other interesting thing from this passage: Deav wears a robe. In QD&D, clerics are clothies.
Tags: everybook