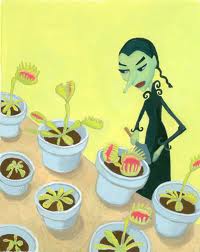 My random forest monster chart includes witches, which don't usually get a stat block. The Hag isn't the same thing. The important thing about witches is that each has her own cottage industry.
Despite the fact that witches gather in covens, and despite the misguided Hansel and Gretel movie where witch mooks are mowed down with machine gun fire, D&D witches are most interesting as lone monsters. Each witch should have a unique and cruel form of magic.
Hansel and Gretel's witch makes gingerbread. Circe has a pig farm. The witches in the seminal work on witchcraft, Nick Cage's Wicker Man, keep bees. The Macbeth witches are political wonks, and probably have a Nate Silver-style blog. Each witch has a horrific twist on their own hobby*, but they're all hobbyists nonetheless, following the dictates of their own peculiar imaginations, and therefore spiritual sisters to D&D players. Some witch probably plays a twisted variant of OD&D where the players suffer the fate of their characters. "Bad luck, your character stumbled into a trap! Roll on the random trap chart! ROLL ON IT!"
When your players randomly encounter a witch, you should take a few seconds to come up with some unique pastime. Or roll on this chart (when you roll an entry, cross it off and write in something new):
1: baker (we used a witch baker recently in the Mearls sidebar)
2: shoemaker (collects feet for study so that the shoes will fit better)
3: mason (turns the victims of her trickery into stones; has a pretty big castle by this point)
4: playwright (captures friend/family groups and compels them to enact horrific Shakespearean tragedies)
5: cooking contest judge (mystery ingredient: pieces of yourself!)
6: randomly choose from http://en.wikipedia.org/wiki/List_of_hobbies – so many good ones to choose from! B-boying, RC car racing, and parkour witches are all great possibilities.
Witches and gender
Because medieval Europeans were weirdos, traditional witches are female. We don't need to reject this powerful archetype, but we don't have to be bound to it either. As far as I'm concerned, a witch is a person who seems civilized, but who uses guile and magic to destroy travelers in terrifying ways. Bluebeard is a nice example of a male character with witch-like characteristics (his particular hobby is serial monogamy). Inside the game world, he might not be called a witch, but I'd use witch stats for him.
*I didn't see the movie, so I can't say for sure that the Wicker Man witches had a particularly horrific style of beekeeping. I can only hope that they did, and that it involved Nick Cage getting stung, a lot.