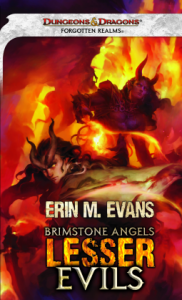 For all of Mira's assurances, nothing was simple about entering the cavern, in Farideh's opinion. First, there was a climb up a nearly sheer rock face, the stream that seemed to trickle out the broken door pouring down on her head. She hauled herself up onto the narrow ledge behind Mira, not wanting to consider how they would get back down.
–Lesser Evils by Erin M. Evans
One of the things I liked about Mike Mornard's old-school dungeon crawl was that there was a significant cost to entering the dungeon each time. You had to negotiate past a mad wizard on each trip. This encouraged you to stretch your resources, which made things a little more tense.
You can't come up with a gimmick like that for every dungeon, of course. But you can come up with a gimmick like that for a LOT of dungeons.
In the passage above, the difficulty is simply a dangerous climb to the dungeon entrance. That's not bad at all. (In the book, there's also time pressure on the dungeon excursion – another classic.)
Another way to increase the dungeon-entry cost is to institute, not a fixed cost, but a lottery. Every time you open the door, there's a visible risk. In the simplest case, there's a wheel-of-fortune roulette wheel on the door, and it spins every time you open the door. If you get double zeroes, something bad happens. Maybe a trap is spring, or maybe the dungeon just collapses, leaving you unharmed but burying any treasure you hadn't looted yet.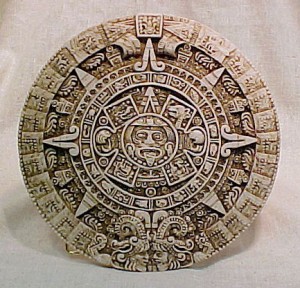 Free-associating from the idea of an ancient roulette wheel, I'm thinking of one of those round calendars like the Mayan calender.
The Mayan calandar has 20 months – convenient for D&D random number generation! But luckily, a 12-month calendar comes with its own die as well.
In fact, I have a d12 with the months on it, just begging for its own house-rules subsystem. Maybe this is it!
In order to open the door, you have to spin the stone calendar disk on the door. We'll associate a god or demon with each month. The evil god, or the scariest demon, is associated with January (or a roll of 1 on the d12).
We could further tie the dungeon to the die roll: based on the season you roll, the dungeon is altered. If one god is associated with lightning, then lightning crackles down the hallways and powers otherwise inoperable machines. Or maybe it's based on the season. If you roll a spring month, the dungeon walls are covered with climbable ivy: some new areas are now accessible. In winter, snow and ice coat the floors, and you need winter clothes to avoid exposure damage. In summer, it's hot, and the dungeon's pools and rivers are dried up, revealing treasures and secrets. Fall? Well, fall is a time of death and decay. So, business as usual in the dungeon.
Tags: everybook