It's my birthday today, and here's my gift to my readers and kickstarters: the Dungeon Robber video game beta is now available!
PLAY DUNGEON ROBBER!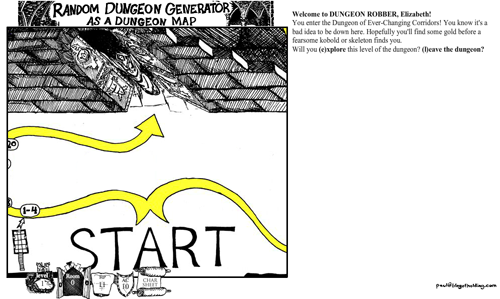 I've talked before about this game. To recap, it's a free Flash web game, a final bonus reward to cap the Random Dungeon Generator Kickstarter. It uses the original D&D rules to construct random dungeons and then lets you send in characters to die.
As you may have noticed, I have a tendency to contract featuritis. I always end up jamming a few more things than I planned in all of my projects. As I've mentioned before, that's how this game ended up with pets, extra classes, and the textbook sign of feature creep, a fishing minigame. Well, since then, I've added new weapons (including D&D classics like the bastard sword), new treasures, new class abilities, new town buildings, and, based on many hours of alpha testing, new conveniences.
Here's one: Dungeon dead ends, the curse of any randomly-generated labyrinth, are now semi-safe locations where you can eat food, rest and recover a spell or two, and even send a henchman back to town to sell some of your inventory-clogging vendor trash. All of this comes with a risk. While you're sitting in the dead end, munching your iron rations and keeping watch down the hallway, you might be ambushed from behind by a monster passing through a secret door.
I've also implemented every trick and surprise in the original 1979 random-dungeon charts, including ones which are vanishingly rare. If you happen to find a magic pool that grants wishes in the dungeon, email me and let me know, and tell me what you wished for and how it turned out.
This game has a lot of moving parts, and it's sure to be buggy. I'd like to hear about any bugs you hit. Also let me know what parts are fun, what parts aren't, what you found confusing, and what grisly end met your 2nd level Dungeon Robber who somehow found himself on level 7 of the dungeon. My email is paul at blogofholding.com.
And finally, some challenges to you: I've been playing this game, in some version or other, for months, and I have never become King. And on the perma-death Advanced mode, my record is even worse. I've never made it to level 5, Knight. If you break my records, let me know.
PLAY DUNGEON ROBBER!