The PCs travel to a distant continent, another planet, or a nightmare dimension. Where are you going to get an entire ecology of weird, exotic, never-before-seen D&D monsters?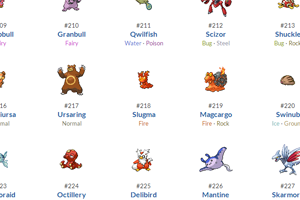 If you bookmark a list of pokemon, you have almost 1000 new mosters at your fingertips. Don't use the original 151 pokemon: everyone knows what Pikachu looks like, and maybe one of your players had a Game Boy back in the day and can rattle off a bunch from the first game. But not a lot of people are familiar with the hundreds of pokemon from the second through sixth generation. And even if they might recognize a name or a sprite, will they be able to place a description?
You don't have to know anything about pokemon. Just pick a critter and describe it.
"The water is alive with what look like scuttling, severed dragon heads. On closer inspection, you see that the 'heads' are actually the grossly disproportionate right claws of tiny crabs. The huge claws have fake eyes and very real jagged teeth."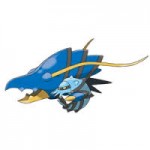 That's #693, Clawitzer.
"A huge metal bell floats in front of the dungeon door. Manic red eyes stare at you from the bell's face: between the eyes, a mouth jabbers and gnashes horrid teeth."
That's #437, Bronzong.
"A floating sword slices the air in front of you. Trailing from its pommel is a long silk cord and an elaborate sheath."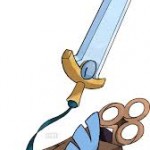 #679, Honedge. Maybe not a great Pokemon but a good D&D monster.
Sure, there are plenty of duds: "You see a floating keyring." (#707, Klefki) "OK, this guy is like… a sumo wrestler with… a novelty foam hand?" #297, Hariyama) but the Monster Manual has some duds too: we ignore 'em.
If you examine them closely, Pokemon have a curiously unsettling quality. There's something about them that makes you feel like you've descended into a world of madness. Come to think of it, they might make a great population of savage flora and fauna for the Far Realm, competing with beholders and grell for mastery of that plane of horrors.