This never comes up in D&D gameplay, but I have a theory that most D&D games take place under a sun that's dimmer and more orange than ours.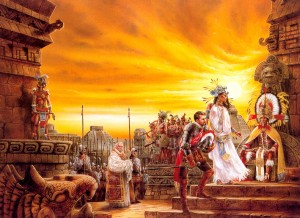 This has to do with D&D's place in the Dying Earth sci-fi genre. D&D was largely inspired by Jack Vance, especially the Dying Earth stories, in which a far-future Earth lived its last days under a dying red sun. In this world, civilizations had risen and fallen millions of times, and there were ruins everywhere you looked.
For contrast, look at our world. Spinning along merrily under a young yellow sun is our brand new civilization. We're the first Earthlings to surpass D&D's renaissance-level technology, and we've only got a few centuries of high technology under our belts. We're only a few thousand years removed from humanity's first mastery of bronze and iron.
Your average D&D world is somewhere between our living and Vance's dying Earth. It's in a Renaissance-technology dark age, and it lives among the ruins of more magically and technologically advanced empires. Lots of them. Many campaigns have their own lore about human and humanoid empires, and lots of editions have hints of aeons where other creatures ruled the world – dragons, demons, giants, yuan-ti, aboleth, the Queen of Chaos, all in turn. Archaological sites are not rare. In fact, there's an undisturbed dungeon, a relic of a past age, just outside the PCs' starting town.
Your average D&D world has been around for a while. It's possible that its best days are behind it. If you travel into its future for a few millenia, you'll get to Dark Sun's red-tinged wasteland. If you travel into the past? who knows, you might end up in d20 Modern, under a garish yellow sun.