5e bards might be the best bards ever. I love that they're full casters. I love their spell list, and their magical secrets ability that lets them learn spells from any other spell list. But they don't… play that much music.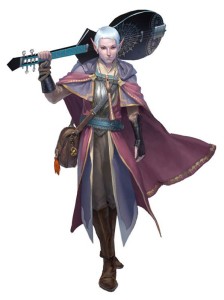 How much of the time is your bard actually strumming a lute? Bards get song of rest, which heals people up during rests. They get countercharm which disrupts mind-affecting spells. And that's pretty much it. Hardly worth naming your class "bard".
The problem with bardic music
I think 5e minimized bardic music because music is a somewhat unwieldy activity. You can't fight while playing a lute, walk while playing a cello, or talk while playing a pipe. If you want bards to play music during combat, they're incentivized to skip instruments altogether and specialize in humming. Alternatively, they can deliver 6 seconds of music or speech as a pre-battle buff, as in 3e's inspire courage or 5e's bardic inspiration. I don't find either of these alternatives particularly, uh, inspiring.
I think the fix for bardic music is to keep it out of combat. 5e bards are full casters with decent melee skills: they have plenty to do in combat. I picture adventuring bards putting away their delicate lutes before a fight, but noodling around practically the rest of the time: making burdens lighter, inspiring the discouraged, and making themselves welcome wherever they go.
I propose that the list of 2 bardic songs be expanded. The new songs, like song of rest and countercharm, will require no daily resources to activate: the only cost to playing one song is that you can't play another at the same time. I intend the bard songs to provide party buffs for 5e's "exploration" and "interaction" pillars, and I intend the bard to spend pretty much all day playing music.
When I can, I like to minimize the footprint of house rules. Instead of adding these songs as bardic class features, I'll make them treasures, to be learned from an ancient music book or won in a musical battle against a rival.
New bardic songs
Song rules: You can start or continue songs as an action; playing music requires an instrument, both hands, and your mouth; and you can switch songs at the beginning of your turn. A masterwork or magical instrument adds +1 to the save DC of your bard song effects.
Marching song: While listening to this song, friendly hearers have exhaustion penalties temporarily reduced by one level. (This is meant to represent the general morale benefits of bardic music: it lets people travel further under worse conditions. It might even stave off death – until the bard stops playing.)
Song that soothes the savage breast: Monsters that aren't already hostile make Wisdom saves vs the bard's save DC. Identical groups of monsters make one save. On a failure, the monsters are charmed. While charmed in this way, they ignore the party. If the party passes through without making a fuss, the monsters will only dimly remember the interlopers' presence. The charm ends if the party speaks to the monsters, lingers, gets too close, makes hostile acts, takes anything, or in any other way brings itself to the monsters' attention. (This is meant to address two of the classic bardic-music problems: a song of stealth is an oxymoron, and making extra noise inside a hostile dungeon is generally a bad idea. Rather than a stealth buff, this song is an alternative to stealth. It's meant to be less effective than a rogue's stealth, but more effective than a party's group stealth check.)
Song of accord: While the bard plays, allies (not including the bard) make all charisma skill/ability checks with advantage against listeners who can hear the song. This is a charm effect and is nullified by countersong. (The bard's charisma is plenty high already: this song is meant to encourage other characters to help out with interaction scenes. I also think it's cool if the bard's countersong class feature is of special use against other bards. Bardic duels are like public debates.)
Song of reputation (college of lore only): The bard glorifies or vilifies a person or organization. Listeners of the bard's choice make a Charisma save vs a charm effect. On a failure, the listeners' attitude towards the song's subject changes: friendly to indifferent or vice versa, or indifferent to hostile or vice versa. At the end of the hour, the audience makes a second save: on a second failure, the new attitude is permanent until changed by other circumstances: it can't be changed further in the same direction by other songs of reputation. (The fluff for the college of lore talks about using songs to make audience members question their loyalty to kings and priests, but there are no official mechanics that bear that out. It may seem alarming that this is a permanent effect, but a) it can only be used on listeners who are friendly to the bard, and b) this is what bards at for, right? Forget about their 9th level spells. A bard's primary purpose is propaganda.)
Song of courage (college of valor only): This song inspires heroics in its listeners. Listeners of the bard's choice make a charisma save against a charm effect (which they can fail voluntarily). On a failure, they gain advantage on saves vs fear and on morale checks for the rest of the day. Furthermore, during this time, they value heroism more than personal safety and act accordingly. The effect ends early if the subject fails a fear save or morale check or takes damage, or if the bard publicly shows cowardice. (The college of valor description talks about inspiring new generations of heroes, but, like the college of lore, doesn't provide mechanics for it. Hey, wouldn't this be a fun way to start a campaign? The first-level characters are all the people in the village who failed their saving throw vs song of courage and marched straight into the nearest dungeon.)