The main property of everything in Fairyland, haunting beauty, is hard to get across at the game table. I'd prefer to double down on a more visceral property. Everything is too big (or maybe you are too small).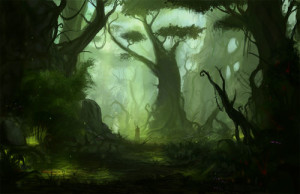 Flowers and mushrooms are six feet across. Bugs are the size of horses. (Giant bees and ants, with their neat orchards and farms and mighty queens, can be major fey political players.) Trees are redwood sized or larger. Cliffs and mountains brush the moon, which hangs huge and bright in the perennial dusk.
Narnian talking animals are one size bigger than usual: little animals like foxes and hedgehogs are halfling sized, deer are rideable, and predators are dire (size Large or larger).
Elves are taller in Fairyland, and taller again in their demesne. Your elf PC might stand a foot taller as soon as she steps through a fairy gate. An elf lord on his throne might be ten feet tall. Nevertheless, the whole fey court might fit on the branch of an massive, ancient tree.
Fomorians, the fey giants, should be a big deal in Fairyland politics. I'd also pepper the clouds liberally with cloud giants.
The only small things are the childlike common folk, from gnomes to sprites.
In a lot of ways, Fairyland is like a memory of what it's like to be a kid: magic and wonder is heightened, you're not sure what the rules are, time has no particular meaning, and everything is much bigger than you, especially those in power. And bad things lurk in the darkness.